What is Verifyus.net?
Verifyus.net pop-ups are a phishing SCAM that uses social engineering methods to trick unsuspecting victims into providing sensitive personal information. Scammers promise easy money, big bargains, big prizes, free samples or exclusive rewards, which requires filling out an online form or answering a few simple questions. This scam is used to steal valuable personal and financial information from users. Verifyus.net and similar sites should be ignored as their promises are fake.
In most cases, users are redirected to Verifyus.net and similar scams when they surf the internet. The reason for this may be an accidental click on a misleading link, push notifications and the presence of adware on the computer.
QUICK LINKS
Verifyus.net Scam in detail
At the time of research, the scam came up with a list of 5 offers that seem to be used by scammers to collect personal data for further scam attempts or other fraud, trick users into signing up for a "free trial" offer that's actually an expensive subscription to products that users did not agree to buy.
Text presented in the phishing page:
Complete any one of the Offers below, and you will get the password automatically!
Your Chance to get $750 to your Cash App Account!
Your Chance to get a $100 Roblox Game Card
Get a $100 Walmart Gift Card!
Get a $100 Google Play Gift Card
Enter Your Details to Have a Chance to Win a $25,000 in Cash Now!
Waiting for verification..
After following the link, scammers redirect users to different scam pages depending on their IP address. During the analysis, our researchers were redirected to deluxebucks.net, www.onlinepromotionsusa.com when using a US IP address, and to easymoneysurvey.space when using a different IP address. Easymoneysurvey.space is a phishing site that displays a pop-up window that states that visitors have the chance to win a special prize. It encourages them to take part in a survey.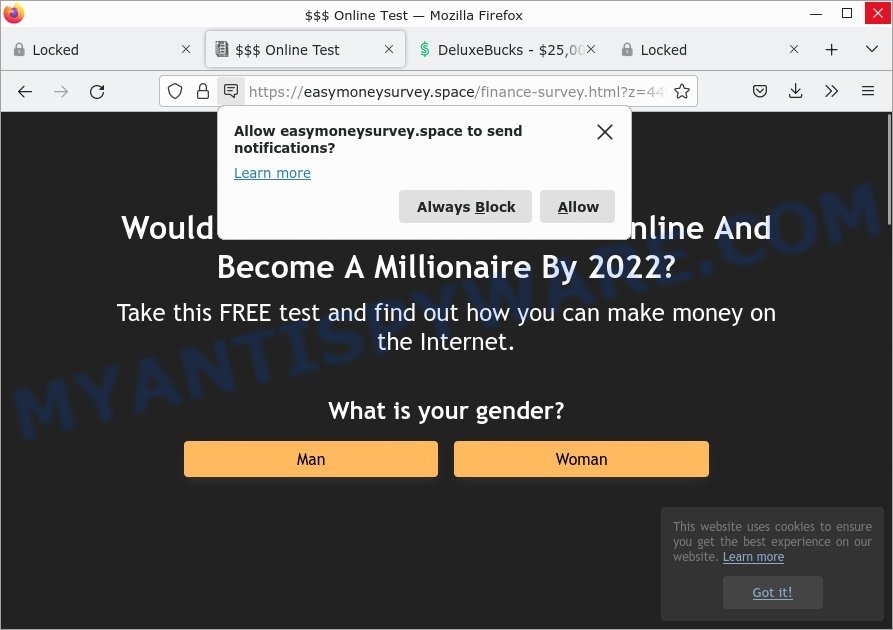 In addition, Easymoneysurvey.space asks visitors to allow it to display browser notifications. If enabled, this site will deliver notifications promoting untrustworthy/dangerous pages, various types of scams, and even malware.
Verifyus.net and other survey scams are similar in that they are allegedly recommended or sponsored by such famous brands or companies as Roblox, Fifa, Yahoo, Amazon, but in fact these brands have nothing to do with them.
To summarize, Verifyus.net is a SCAM. It can lead to loss of data, financial losses, theft of personal information and other serious problems.
Verifyus.net Unlock Roblox Obby Scam
In this case, the scam uses the Roblox Obby Unlock as its bait. The scam came up with a list of 5 offers. Scammers are trying to get users' personal information or trick them into paying "shipping and handling" for a non-existent prize.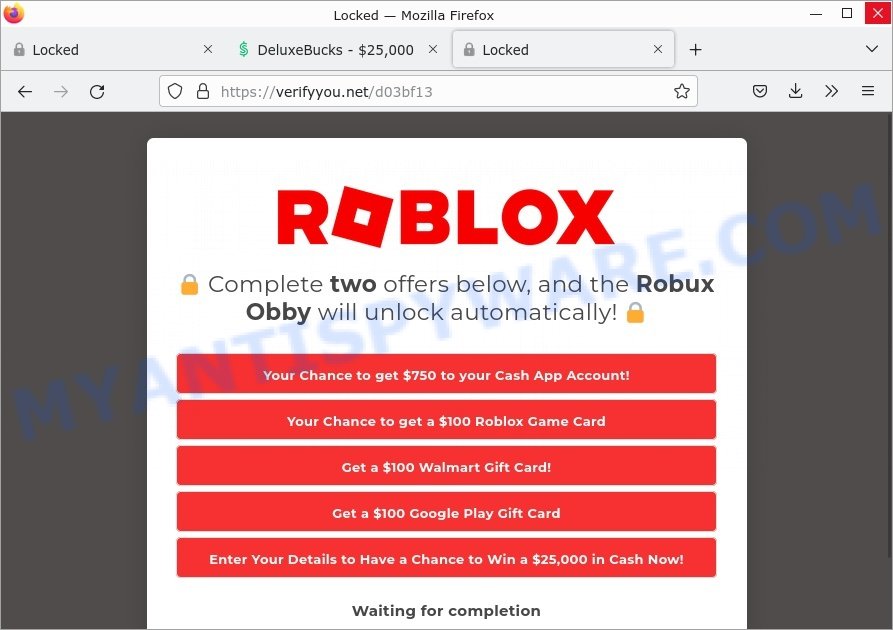 Text presented in the phishing page:
🔒 Complete two offers below, and the Robux Obby will unlock automatically! 🔒
Your Chance to get $750 to your Cash App Account!
Your Chance to get a $100 Roblox Game Card
Get a $100 Walmart Gift Card!
Get a $100 Google Play Gift Card
Enter Your Details to Have a Chance to Win a $25,000 in Cash Now!
Waiting for completion
How to Spot Phishing Scams?
There are always a few details that can give away a scam. Make sure you know what to look out for.
If you receive a message congratulating you on a cash prize win, don't respond or click on any links. Stop and think. An unexpected message is often the first sign of a scam. Scammers use this tactic to harvest your personal information.
The most obvious way how to spot a fake giveaway is finding inconsistencies in domain names, phone numbers and email addresses. If the message claims to be from the FIFA, but the message is being sent from a random phone number or email address, it's probably a scam.
Go to the FIFA official website and look for information about the Giveaway.
If you have the slightest suspicion a message may be a scam, do not click on the links you see.
The message creates a sense of urgency. Creating a false sense of urgency is a common trick of phishing scams. Be suspicious of messages that claim you must call or click a link immediately.
Examples of such scams
Mr Beast Giveaway SCAM, Netflix Job Pop-Up Scam, Binance Giveaway SCAM, You've made the 9.68-billionth search are some of the most recent giveaways scams that we have reported on our website.
In fact, there are many more, the Internet is full of fraudulent and scam websites ready to steal user information and money. Scammers very often use schemes that are based on: fake prizes and online surveys. Regardless of the scheme, the goal of scammers is to make money by deceiving people. Due to the large number of fraudulent sites, you need to be careful when clicking on links and close suspicious sites as soon as they appear on the screen.
Why am i getting the Verifyus.net pop-ups?
Usually, users end up on Verifyus.net and similar scams by going to a misspelled URL or, clicking on a fake link from push notifications and spam emails. In addition, they can be redirected to this scam by malicious advertisements (malvertising) and Adware.
Push notifications are originally developed to alert the user of recently published news. Cyber criminals abuse 'push notifications' to display annoying ads. These ads are displayed in the lower right corner of the screen urges users to play online games, visit scam pages, install malicious browser add-ons & so on.
Here are some examples of the scam notifications:
Adware is type of malware. It can generate numerous additional popup, banner, pop-under and in-text link advertisements; gather your personal data such as login details, online searches, etc; run in the background and drag down your computer running speed; give more chances for other adware, PUAs even malware to get on your PC.
Typically, adware ends up on personal computers bundled with freeware, malicious downloads, fake updates, shared files, and other unsafe software downloaded by users from the Internet. To avoid installing any adware: choose only the option of manual, custom or advanced installation and disable any third-party applications that you are not sure about.
How to protect against the Verifyus.net Scam
To avoid becoming a victim of scammers, it is important to always keep in mind:
In reality, no one ever wins the gifts promised by the Verifyus.net Scam.
NEVER share your personal information.
Never trust scam sites, don't click links and buttons they contain, it can be dangerous for you and your computer.
Close the Verifyus.net pop-up as soon as it appears on your computer screen. Scammers can prevent you from closing it in various ways. In such cases, close your browser using Task Manager or restart your computer. If the next time you launch the browser, it prompts you to restore the previous session, abandon it, otherwise this scam will reopen on your screen.
Use an ad blocker when browsing the internet. It can block known scam sites and protect you from scammers.
If you suspect that your computer is infected with malware, you accidentally clicked on a link on the scam page, or just want to scan your computer, then use one of the free malware removal tools.
Threat Summary
| | |
| --- | --- |
| Name | Verifyus.net |
| Type | giveaway scam, phishing, fake survey |
| Fake claims | Complete any one of the Offers to get the Fifa password, Complete two offers to unblock the Robux Obby |
| Phishing URLs | verifyyou.net/d03bf13, verifyyou.net/8a3bdb2 |
| Distribution | social engineering attack, rogue ad networks, PUPs, adware, fake alerts within visited websites |
| Symptoms | pop-up advertisements in bottom right corner of screen, unexpected changes in browser settings, pop-ups are loaded without your request, speed test good but internet slow |
| Damage | identity theft, serious privacy issues, financial losses, additional malware infections |
| Removal | Verifyus.net removal guide |
Report a Scam
If you encounter a scam that is similar but not the same as the example above, please post it as a comment on this article. This helps us to warn users about current scams, monitor trends and disrupt scams where possible.