What is "Post Office We are unable to deliver" SCAM?
[Post Office] We are unable to deliver is a phishing scam that is used to trick people into believing that their package was not delivered, for various reasons. The goal of the scammers is to lure victims into clicking on a fake link in the message, which is presented as a way to order re-delivery. Anyone who got the scam message should "delete it immediately". The scam can lead to monetary loss and identity theft.
QUICK LINKS
The scam contains a message about package delivery failure, which scammers try to pass off as legitimate. The scammers trick users into ordering a new delivery by clicking on the link in the message. Clicking on the link opens a site that pretends to be the official USPS site. The scam site claims problems with shipping address and requires users to provide their personal details: first name, last name, address, etc.
Full text of the scam:
[post Office] We are unable to deliver to you because your address in incorrect.
Please replace . https://uspcommser.com/14Bj
The scam message contains a link that will lead to a fake USPS site where users must enter their personal information and credit card details. Obviously, in this way, scammers try to obtain personal data of users and information about their credit card. This information can be used to make fraudulent purchases and unauthorized transfers, sold to criminals on the dark web, or other malicious purposes. Moreover, the criminals behind this scam can use stolen email addresses and phone numbers to send spam and malspam (spam emails containing malware or links to malware).
To summarize, the "[post Office] We are unable to deliver" message is a SCAM. It can lead to loss of data, financial losses, theft of personal information and other serious problems.
Threat Summary
| | |
| --- | --- |
| Name | Post Office We are unable to deliver, USPS Redelivery Scam, 'USPS' Text Message Scam, Fake USPS text message, USPS missed delivery text |
| Type | Phishing, Scam, Social Engineering |
| Fake Claims | We are unable to deliver to you, We missed your deliviry today, We have missed your delivery today, We attempted to deliver your parcel, Your package is waiting for redelivery, Post Office Sorry we missed you |
| Associated web sites | uspcommser.com |
| Distribution methods | Email and SMS spam campaigns |
| Removal | Links in scam messages can lead to sites or files with viruses or other malicious content. To scan your device for viruses, find and remove malware, we recommend using the steps below. |
Scam Examples
The "Post Office We are unable to deliver" Scam is just one of the many types of scams that exist. In some emails and text messages, scammers use threats to intimidate and bully a victim into paying, others contain links to malicious files. Geek Squad EMAIL SCAM, Tinyurl5.ru Whatsapp Scam, Norton Subscription Has Expired, Hackers have access to your device. Check details ASAP! and DPD Delivery Email are some of the scam emails we reported recently.
Why am i getting spam text messages?
Scammers use different ways to promote the "Post Office We are unable to deliver" scam, most common of which is usually SMS spam campaigns. In addition, the scam can be promoted through social networks (Facebook, YouTube, Twitter, Instagram), deceptive ads and push notifications, as well as Adware and potentially unwanted applications (PUAs).
Adware is type of malware. It can generate numerous additional popup, banner, pop-under and in-text link advertisements; gather your personal data such as login details, online searches, etc; run in the background and drag down your Android OS running speed; give more chances for other adware, PUAs even malware to get on your device.
What to do when you receive the "Post Office We are unable to deliver" SCAM
We advise everyone who receives this message to follow a few simple steps below. If you receive such messages regularly, then this may be a sign that there is adware or spyware on your device. In this case, you need to scan your device for malware, remove unnecessary and suspicious apps.
Do not believe this message.
Do not pay a 'redelivery' fee.
If there's a link in the scam message, do not click it, otherwise you could unwittingly install malware or ransomware on your device.
Report the email spam to the FTC at https://www.ftc.gov/
Scan your device for malware.
Install an anti-phishing software.
How to scan, clean & remove an adware from your android phone
You may find some minor differences in your Android device. No matter, you should be okay if you follow the steps outlined below: remove all suspicious and unknown apps, reset web browsers settings, scan your android phone for malware. Some of the steps below will require you to close this webpage. So, please read the step-by-step instructions carefully, after that bookmark it for later reference.
Remove unknown and suspicious apps
First of all, make sure that the Android phone does not have any apps running. To do this, open the list of running applications and remove all apps from it. Another option, just restart the phone, after which do not start anything.
Now you can start removing unnecessary apps. Open Android Phone settings, select APPS here. You will be shown a list of installed applications, similar to the one shown in the following example.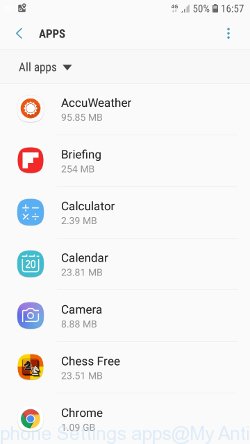 Several times, very carefully review this list, most likely one of the apps listed here is a virus, adware or malware that shows ads or installs unwanted games on your phone. To remove a suspicious app from Android Phone, just click on its name and select UNINSTALL in the window that appears, as shown in the figure below.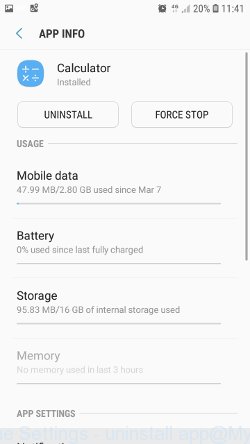 If you can not figure out what to delete and what to leave, use the following criteria for determining adware, malware and viruses. The app is suspicious if: it consumes a lot of memory (for example, it's called a calculator, and consumes hundreds of megabytes of memory), the app name is completely unfamiliar to you (check the app name through Google search), the app requires strange permissions (for example, a calculator requires permission to send sms and access to the address book). At this stage, you need to be even a bit suspicious than usual.
Remove push notifications
If you want to remove notifications (unwanted ads) from the notification area of your Android phone, you need to change some settings, which determines which websites can send you browser notifications. These notifications are often used to send various unwanted ads to Android device.
Tap 'Settings'.
Tap 'Notifications'.
Find and tap the internet browser (Chrome) that shows spam notifications.
Find unknown and suspicious websites, other rogue notifications and set the toggle button to 'OFF' on them one-by-one.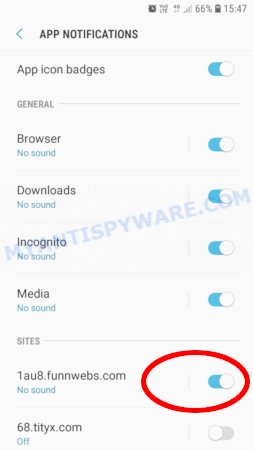 Scan your android phone for malware
Malwarebytes Mobile Security (Malwarebytes for Android) is a free app for phones running Android operating system. It can easily find and quickly remove viruses, potentially unwanted programs (PUPs), adware, trojans and other malicious software.
Download Malwarebytes, using the following link, and install it on your phone. After the application is installed, start it. You will see a window similar to the one shown in the example below.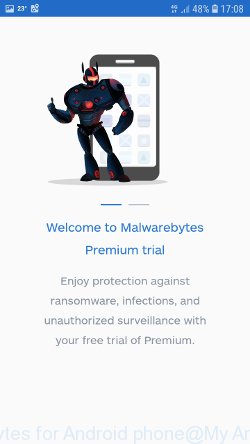 Read the information about the Malwarebytes for Android, and then click "Got it" button.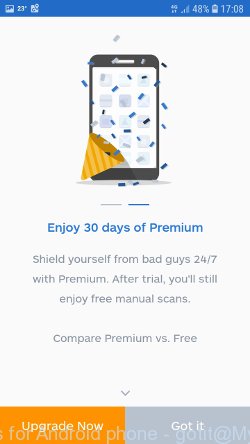 You will see the main window, as shown in the figure below. Click "Fix now" button.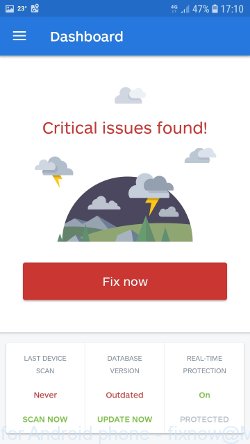 Malwarebytes will attempt to automatically update the virus database, and then immediately start the full scan procedure. In the process of scanning, Malwarebytes for Android will scan your phone for Trojans, spyware, viruses and other malicious programs.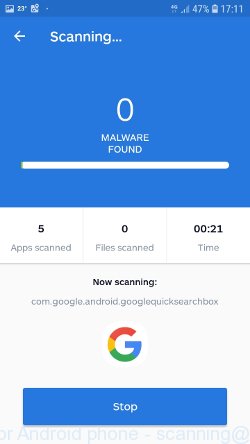 When the scan is completed, Malwarebytes will report the detected viruses and in case of detection of malicious programs, offer to remove them. Just follow the prompts.
To use Malwarebytes for Android, you do not need to buy a premium (paid) version of the app. The first 30 days you can use all the features of this antivirus completely for free, and after 30 days, the device's auto-protection will be turned off, but you can continue to use Malwarebytes for Android to check your phone for malware and remove it in case of detection.
Reset Android browser
Adware and other malware can change the Android settings. But most often malicious software makes changes to the browser settings, modifying the home page or search engine. Therefore it is very important, after scanning the Android device with antivirus software, also check the browser settings and restore its normal values.
Start the browser. Click on the icon in the form of three points, which is located in the right corner of your phone. In the menu that opens, select Settings.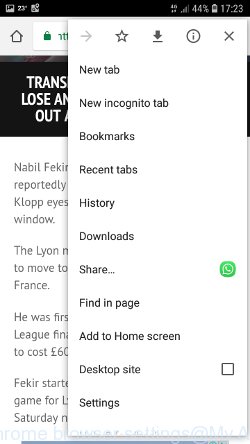 You will see a list of browser settings. Find the "Search Engine" option and click on it. In the window that opens, select Google.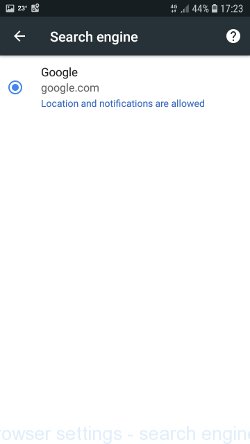 Go back to the list of browser settings. Now click "Home page". Check that the switch is in the ON position. If necessary, move it to this position. Then click on the line below, which says "Open this page". In the window that opens, enter the address of your home page or the line "about:blank" (without quotes). In this case, the blank page will be used as the homepage.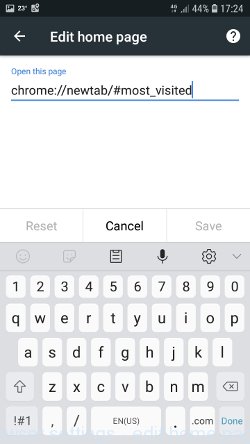 In addition to the above, it is also recommended to clear data that was saved by the browser while the phone was infected. To do this, in the list of settings, find the Privacy item and click it. Scroll the page to the bottom until you find "Clear browsing data", press it. You will see the window as shown in the figure below.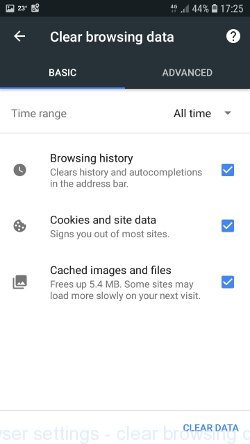 In the "Time range", select the time period that covers the period when your Android phone was infected with malware, then click "CLEAR DATA" button. During this procedure, your Google account will not be deleted, passwords, bookmarks and other personal information will be saved.
Reset Android phone (Factory Data Reset)
If nothing of the above is helpful and you failed to get rid of malware manually or using antivirus software, then most likely the malware can only be removed by resetting the phone.
In order to reset Android phone, do the following. Open Phone Settings, scroll down to General management. Click it. You will see a window similar to the one shown in the pictures below.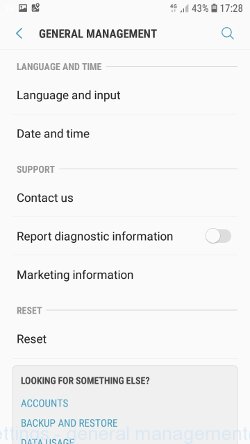 Find the "Reset" option and click on it. You will see a list of possible ways to reset the phone settings, select the "Factory Data Reset" option.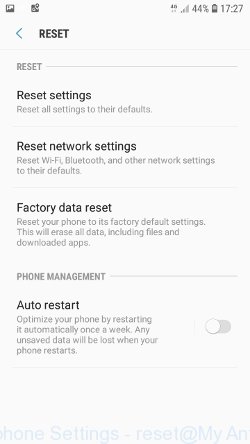 Click "Factory Data Reset" button. ATTENTION! All your personal data from the phone's internal memory will be deleted, all phone settings will be restored to their original state. The internal memory of the phone will be TOTALLY cleared.
Finish words
If you receive a scam message that is similar but not the same as the example above, make sure you remove any personal info in this message, then post it as comment on this article. This helps us to warn users about current scams, monitor trends and disrupt scams where possible.