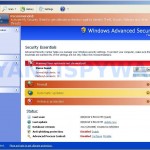 My Security Shield is a new fake security tool that classified as rogue antispyware from the same family of rogues as early appeared Security Master AV and My Security Engine. The rogue distributed usually through fake online malware scanners. When this scanner is opened, it will imitate a system scan and once finished, tells you that your computer is infected with a lot of infections. Then offers to install an "antivirus". This "antivirus" is a trojan, that once started, will download and install My Security Shield onto your computer.
When My Security Shield is installed, it will configure itself to run automatically when Windows starts, then add several lines into HOSTS file so that when you open Google, Yahoo or Bing, you will be redirected to a malicious website. Next the program will create a lot of fake malware files with random names, that absolute harmless, but later during the scan will be reported as infections (worms, trojans and viruses). Of course, the scan results are false, because the fake antispyware tool identifies harmless files as dangerous infections. Like other rogue antispyware applications, the rogue want to force you to believe that your computer is infected. Important to know, My Security Shield is unable to detect or remove any infections and nor will be protect you from legitimate future threats. So you can safely ignore the false scan results!
While My Security Shield is running, it can block the Windows Task Manager and most antivirus and antispyware tools, as well as show a variety of fake security warnings and alerts. Some of the alerts:
Warning!Spambot detected!
Attention! A spambot sending viruses to your e-mail contacts has been detected
on your PC.
Update available
New updates available
16 important updates to fix critical system errors
Warning! Identity theft attempt detected
Hidden connection IP: 128.154.26.11
Target: Microsoft Corporation keys
Warning
Warning! Virus detected
However, all of these alerts and warnings are fake and like scan false results should be ignored!
From the above, obviously, this program is an unwanted guest on your computer, which should be removed from your computer upon detection.
More screen shoots of My Security Shield
Symptoms in a HijackThis Log
O4 – HKCU\..\Run: [My Security Shield] "C:\Documents and Settings\All Users\Application Data\1ac31\MSb115_2121.exe" /s /d
How to remove My Security Shield
Now I look at this malware and write an instructions for removing it. Please wait a little or visit our Spyware removal forum to ask us for help.
Just completed the My Security Shield removal instructions. Use these steps to remove this malware for free.