Found new fake/rogue antispyware tools: WistaAntivirus, WinDefender, SpywareScanner2008.
These programs uses scare tactics (such as pop-ups and fake system notifications), infects systems via misleading advertising on free download, warez and porn websites, trojans and browser security holes.
WistaAntivirus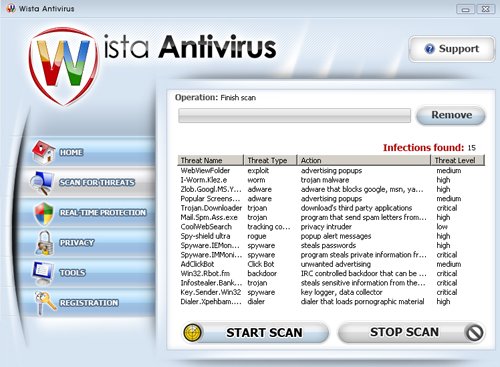 WistaAntivirus reports false or exaggerated system security threats on the computer.
Viruses have been detected!
Spyware has been detected at your PC!
Last scan with Wista Antispyware has
detected the traces of infections.
The user is then prompted to pay for a full license of the application in order to remove the errors.
Hijackthis shows infection:
O4 – HKLM\..\Run: [wistaantivirus] C:\Program Files\WistaAntivirus\wistaantivirus.exe
WinDefender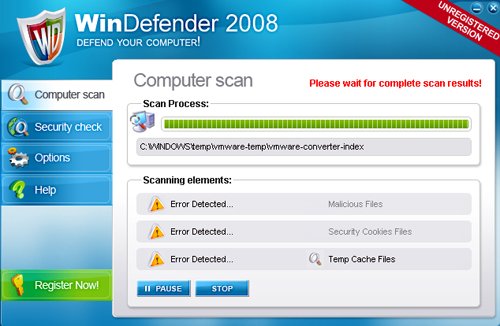 Hijackthis shows infection:
O4 – HKLM\..\Run: [WinDefender 2008] C:\Program Files\WinDefender 2008\WDefDemo.exe
SpywareScanner2008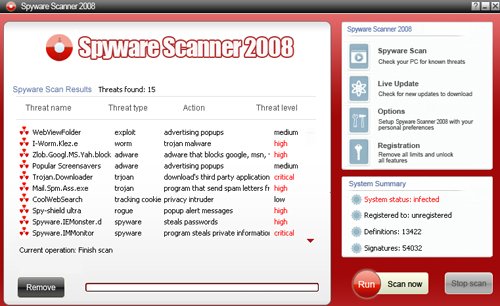 Hijackthis shows infection:
O4 – HKLM\..\Run: [spywarescanner] C:\Program Files\SpywareScanner\spywarescanner.exe
How to remove rogue antispyware:
I would recommend that you follow the instructions – how to use Spyware Removal Forum and post your logs in the spyware removal forum. I will check your logs and advise you on rogue antispyware removal.