VundoFix is a freeware removal tool for many of the known variants of Trojan.Vundo, Trojan.Conhook and other similar infections.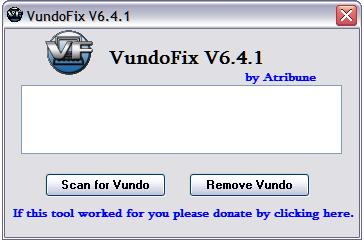 Usually when infected with Vundo the user is bombarded with popups for WinFixer, Amaena, WinAntiVirus, ErrorSafe, SystemDoctor and DriveCleaner. Downloading and running these Fraudware applications will result in a fake scan telling you that you are infected with malware then telling you that you need to buy their program to remove the malware that it found. DO NOT BUY THESE PROGRAMS. They are scams and will not remove anything but could possibly make your infection worse.
A slowdown in PC performance may also be noticed when Vundo is running as well as the possibility of random BSOD's.
Unfortunately at the moment VundoFix is unavailable for download, as the author no longer support it, and removed from the Internet. I suggest you use the following two free programs:
1. AdwCleaner – free adware, PUP, toolbars and hijackers remover.
2. MalwareBytes Anti-malware – free spyware, malware, trojan remover.
How to use VundoFix:
Download VundoFix from here and save it to your desktop.
Double-click VundoFix.exe to run it.
When VundoFix opens, click the Scan for Vundo button.
Once it's done scanning, click the Remove Vundo button.
You will receive a prompt asking if you want to remove the files, click YES.
Once you click yes, your desktop will go blank as it starts removing Vundo.
When completed, it will prompt that it will reboot your computer, click OK.
Note: It is possible that VundoFix encountered a file it could not remove. In this case, VundoFix will attempt run on reboot, simply follow the above instructions starting from "Click the Scan for Vundo button." when VundoFix appears at reboot.
If you encounter a variant of Vundo that VundoFix does not detect or cannot remove follow the steps outlined in the topic linked below:
How to use Spyware Removal Forum