Cure your computer of viruses, trojans, spyware and other malicious programs with Dr.Web CureIt, which uses the Dr.Web engine. There is no need for installation and therefore this is an ideal on-demand scanner as there is no conflict with your primary AV. The utility is always armed with the most up-to-date add-ons to the virus databases.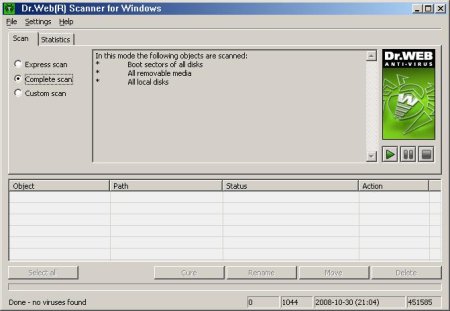 How to use CureIt:
Download cureit.exe and save to your desktop.
Double-click the cureit.exe file and allow it to run the express scan.
This will scan the files currently running in memory and when something is found, click the yes button when it asks you if you want to cure it. This is only a short scan.
Once the short scan has finished, select the drives that you want to scan.
Select all drives. A red dot shows which drives have been chosen.
Click the green arrow > to the right and the scan will begin.
At the first infection, select 'Yes to all' if it asks if you want to cure/move the file.
When the scan has finished, click the "Select all/select none" toggle button (if available) next to the files found.
Then click the green cup icon right below and select Move incurable.
This will move any infected files to the %userprofile%\DoctorWeb\quarantaine-folder that can't be cured.
If you need a report, then, from the main Dr.Web CureIt menu (top left), click File and choose Save report list. Save the report to your desktop.
Close Dr.Web Cureit and Restart your computer to completely remove any stubborn files in reboot.
Download Dr.Web CureIt