Sunbelt blog reported about new rogue antispyware PestCapture.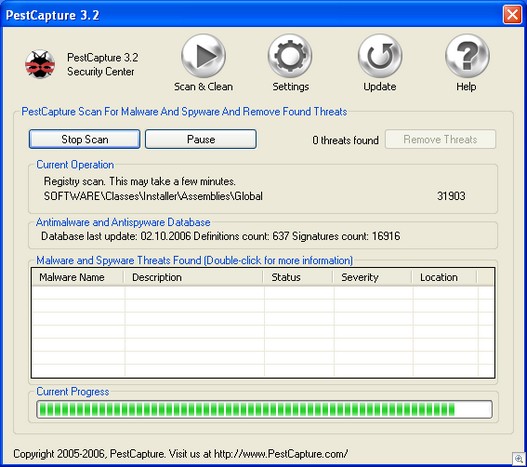 PestCapture uses dlls that are the same as that of another rogue antispyware – Spysheriff
For protect your PC, add these sites into your blocklist:
pesttrap(dot)com
pesttrap(dot)com
Innovagest2000(dot)com
1stantivirus(dot)com
Anti-virus-pro(dot)com
Spycontra(dot)com
Spydeface(dot)com
Virushammer(dot)com
For remove PestCapture from your computer, make follow steps:
Download CCleaner. Double click on the file for install.
Download SmitfraudFix (by S!Ri)
Extract the content (a folder named SmitfraudFix) to your Desktop.
Go to Start > Control Panel > Add or Remove Programs and remove the following programs, if found: PestCapture
Next, please reboot your computer in Safe Mode by doing the following:
1. Restart your computer
2. After hearing your computer beep once during startup, but before the Windows icon appears, press F8.
3. Instead of Windows loading as normal, a menu should appear
4. Select the first option, to run Windows in Safe Mode.
Open the SmitfraudFix folder and double-click smitfraudfix.cmd. Press the number 2 on your keyboard and the press the enter key to choose the option Clean (safe mode recommended)
You will be prompted : "Registry cleaning – Do you want to clean the registry ?"; answer "Yes" by typing Y and press "Enter" in order to remove the Desktop background and clean registry keys associated with the infection.The tool will now check if wininet.dll is infected. You may be prompted to replace the infected file (if found); answer "Yes" by typing Y and press "Enter"
Reboot your PC.
Run CCleaner.
Click Analyze button. After scan your system, click Run Cleaner.
Your computer should now be free of the PestCapture infection.
If you are still having problems with spyware after completing these instructions, then please follow the steps outlined in the topic linked below: Spyware removal – Read Before Posting