In the some last months we reported about SpyAxe, SpywareStrike, PestTrap, AlfaCleaner, SpyFalcon …
Now Sunbelt found new – BraveSentry.
Below is a screen shot of an infestation from Game4all(dot)biz that installed both BraveSentry and AlfaCleaner: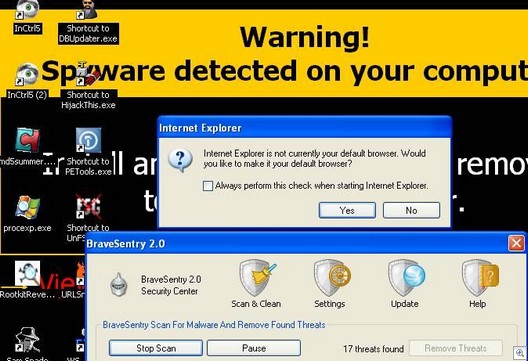 For more screenshots go here.
If your desktop hijacked with BraveSentry you`ll look message:
Your computer is danger!
Windows Security Center has detected spyware/adware infection!
It is strongly recomended to use special antispyware tools to prevent data loss
Whois info for your blocklist. (How to use host file for block rogue sites)
bravesentry.com
Ocean Industries Daniel Ocean
Amsterdam NL
Email: ceo @ bravesentry.com
Other site in the IP:
anosurfer.com
Pietro Miezani Privaweria Ltd
Gua EC
anosurfer @ anosurfer.com
Thanks to Sunbelt researchers Patrick Jordan and Adam Thomas.
If you can`t uninstall or remove, tell us about your problem.
Read some info about How to remove BraveSentry