Reveous.com is an online store that sells women's SET, Down Jackets, Sweaters, Boots, Mini Dress, and Activewear. However, there are suspicions that the website may be a scam due to several concerning factors. In this review, we will examine the various parameters and provide an overview of the website's legitimacy.
Website Design: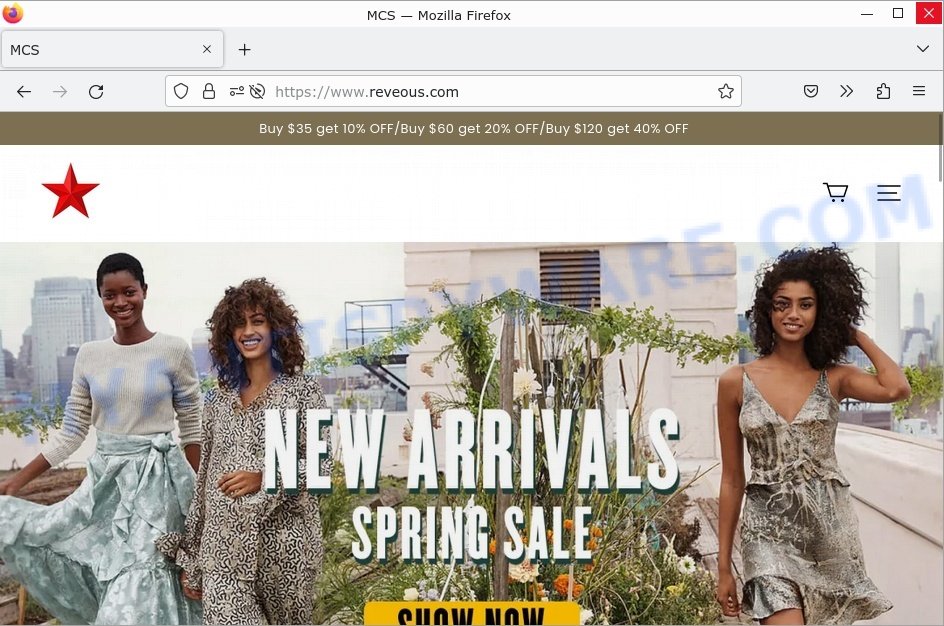 Reveous.com has a generic website design template, and its logo resembles that of Macy's, which could raise suspicions about its legitimacy.
Product Prices: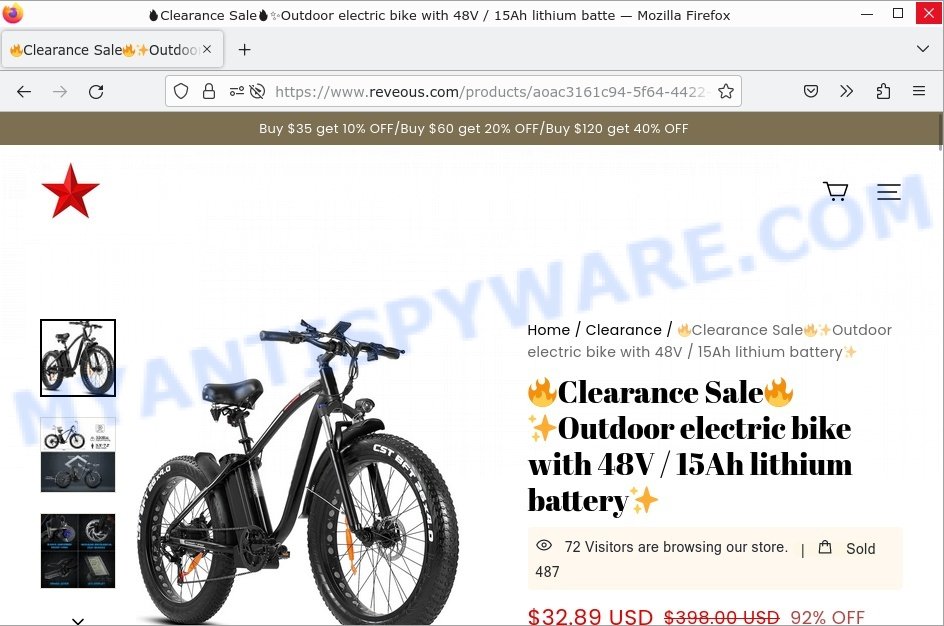 Reveous.com has a hidden section on the site that contains products with huge discounts. These products include an "Outdoor electric bike with 48V / 15Ah lithium battery" priced at $32.89, which is significantly lower than the real price of $1099. Moreover, there are 18 more products with huge discounts and irrelevant categories of the store, such as a tool kit and a chainsaw. Such suspiciously low prices and the presence of unrelated products may indicate that the website is a scam.
About Us:
The "About Us" section of Reveous.com describes the store as siksuo, a clothing brand that pays close attention to environmental protection, sustainability, and ethical sourcing of materials. However, a search reveals that many other suspicious online stores use the same content in their "About Us" section. This lack of originality raises questions about the legitimacy of the website.
Domain Information: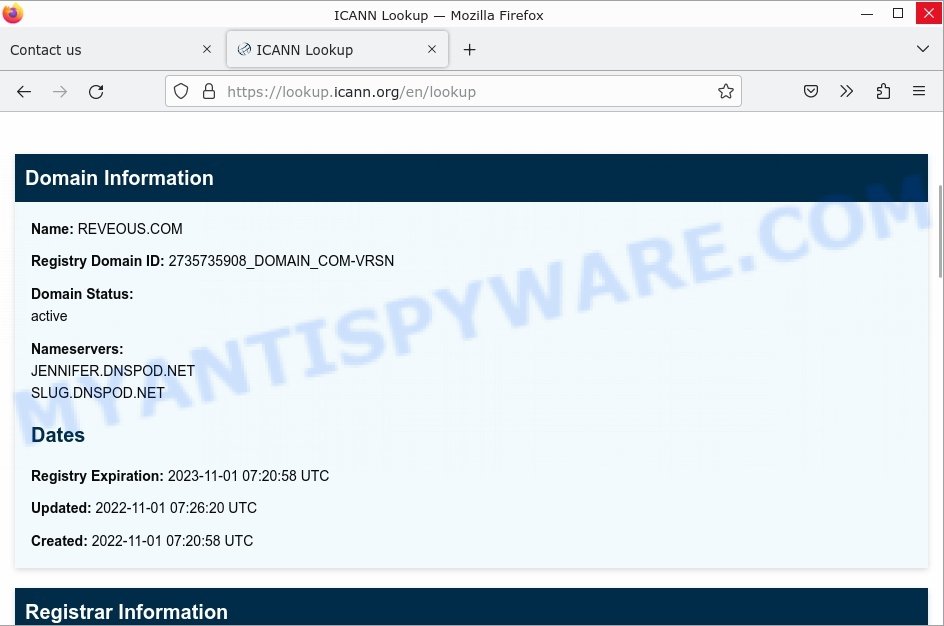 Reveous.com was created on November 1st, 2022, and is set to expire on November 1st, 2023. The domain was last updated on November 1st, 2022. This means that the website is relatively new and hasn't been active for very long. It's important to note that short domain registrations can sometimes be a red flag for scam websites, as they may be created quickly and used to deceive people before disappearing shortly thereafter. However, this is just one factor to consider when evaluating the legitimacy of a website.
Customer Reviews:
There are no positive reviews of the website online, and some reviews indicate that it is a scam. This suggests that many people have had negative experiences with the website.
Customer Service: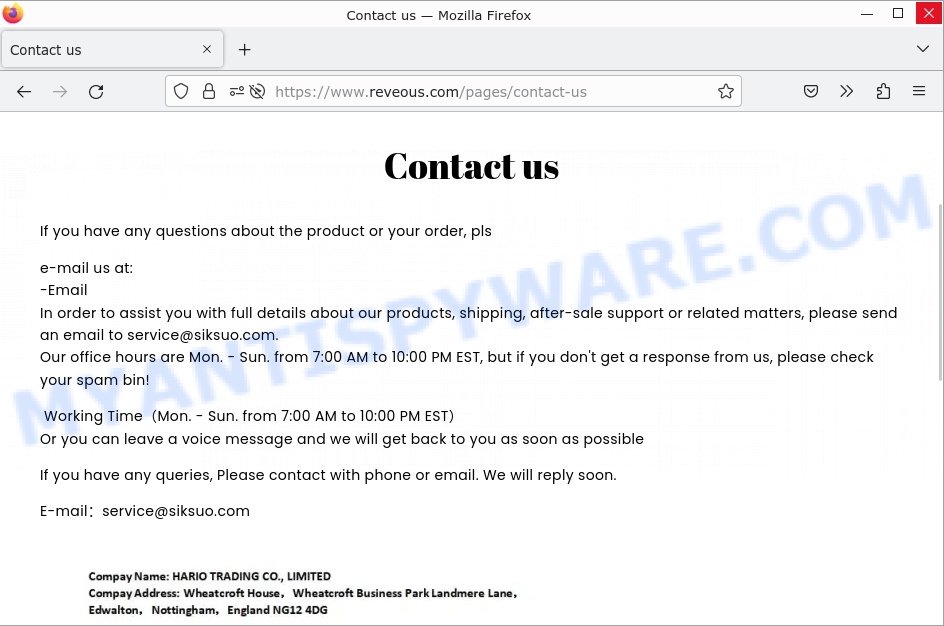 Reveous.com only provides an email address for customer service, which is service@siksuo.com. This is a cause for concern, as customers may find it challenging to get in touch with the company in case of any issues or queries. Additionally, there is no phone number provided, which further limits the options for customers to reach out to the company. The fact that the postal address is inserted as an image is also suspicious, as it may indicate an attempt to conceal the actual location of the company. Finally, the lack of links to social media pages is unusual for a legitimate business and may be a red flag for customers. Overall, the customer service offered by Reveous.com is inadequate and raises several concerns.
Conclusion:
In conclusion, there are several red flags associated with Reveous.com that raise concerns about its legitimacy. The website design is generic and raises suspicions about whether it is a genuine online store. The low prices, lack of original content in the "About Us" section, recent creation date, and absence of positive reviews online also contribute to these concerns. Moreover, the lack of transparency in customer service makes it challenging to trust the website. Therefore, we advise potential customers to be cautious when considering Reveous.com as an online shopping destination.