Is Norton PayPal Email a SCAM?
Norton PayPal Email is a scam that is disguised as a PayPal email, which has caused many people to take the bait. The purpose of this scam is to trick recipients into calling the provided number (contacting scammers). Scammers send emails in an attempt to get confidential information for fraudulent purposes. These emails are a scam and do not come from PayPal. Norton has nothing to do with this email.
Here's an example of a scam email, claiming to be sent by PayPal: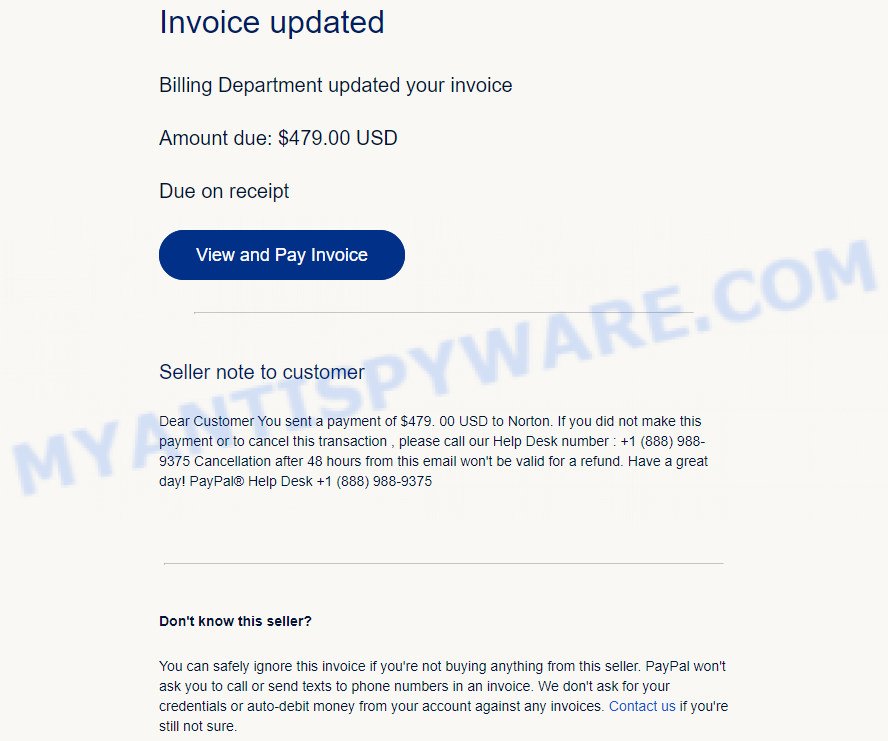 QUICK LINKS
PayPal Norton Invoice Email Scam in detail
Posing as PayPal Billing Department, scammers falsely claim that you sent a payment to Norton. It asks you to call the provided number to cancel this transaction. Of course, this email is completely bogus and is just a way for the scammers to steal your identity and credit card information.
A Norton PayPal Scam Email Text:
Invoice updated

Billing Department updated your invoice
Amount due: $479.00 USD

Due on receipt

View and Pay Invoice

Seller note to customer

Dear Customer You sent a payment of $479. 00 USD to Norton. If you did not make this
payment or to cancel this transaction , please call our Help Desk number : +1 (888) 988-
9375 Cancellation after 48 hours from this email won't be valid for a refund. Have a great
day! PayPal® Help Desk +1 (888) 988-9375

Don't know this seller?

You can safely ignore this invoice if you're not buying anything from this seller. PayPal won't
'ask you to call or send texts to phone numbers in an invoice. We don't ask for your
credentials or auto-debit money from your account against any invoices. Contact us if you're
still not sure.
If you received an invoice from Norton, then don't panic! Do not follow the instructions in the email. It's better to go directly to www.paypal.com and log in to your account. After logging in, look for the invoice. If it is not listed in your account, then the email is a scam.
To summarize, the Norton PayPal Email is a SCAM. It can lead to loss of data, financial losses, theft of personal information and other serious problems.
Here are some ways to recognize a phishing email
Inconsistencies in Email Addresses. The most obvious way how to spot a scam email is finding inconsistencies in email addresses and domain names. If the email claims to be from a reputable company, like Norton, Amazon or PayPal, but the email is being sent from a public email domain, such as "gmail.com" it's probably a scam.
The domain name is misspelt. Look carefully for any subtle misspellings in the domain name. Like arnazon.com where the "m" has been replaced by "rn", or paypa1.com, where the "l" has been replaced by "1". These are common tricks of scammers.
Generic greetings. If the email starts with a generic "Dear", "Dear user", "Dear customer", "Dear sir" or "Dear madam" that is a warning sign that it might not really be your shopping site or bank.
Suspicious links. If you have the slightest suspicion an email may be a scam, do not click on the links you see. Instead, hover over the link, but don't click it. This will pop up a small box that contains the actual URL. This works on image links as well as text links.
Unexpected attachments. Email attachments should always be verified before clicking. Any attachments should be scanned for viruses – especially if they have an unfamiliar extension or one commonly associated with malware (.zip, .exe, .scr, etc.).
The email creates a sense of urgency. Creating a false sense of urgency is a common trick of phishing emails. Be suspicious of emails that claim you must call, open an attachment or click a link immediately.
Threat Summary
Name
Norton PayPal Scam Email Invoice updated
Type
Phishing, Scam, Social Engineering
Email Subject Line
Billing Department of PayPal updated your invoice
Fake Claims
You sent a payment of $479. 00 USD to Norton, To cancel this transaction please call our Help Desk number : +1 (888) 988-9375
Scammers Telephone
+1 (888) 988-9375
Damage
loss of data, financial losses, theft of personal information, other serious problems
Protection
Links in scam emails can lead to sites or files with viruses or other malicious content. To recognize a phishing email, we recommend using the steps below.
Distribution methods
spam email campaigns
Examples of such scams
The PayPal Norton Billing Email Invoice Scam is just one of the many types of scams that exist. In some emails and text messages, scammers use threats to intimidate and bully a victim into paying, others contain links to malicious files. US9514961195221 USPS Scam, Norton Subscription Has Expired, Voicemail Email SCAM, Geek Squad EMAIL SCAM and Whatsapp Scam are some of the scams we reported recently.
What to do when you receive the PayPal Norton Scam Email
We advise everyone who receives this email to follow a few simple steps below.
Do not believe this message.
Always be wary of Emails, Social Media, Pop-ups and Websites.
NEVER share your personal information.
Never follow Email Links. Don't open Email Attachments if you are not sure or expecting it.
Be careful if you get odd emails from a friend or Family Member. They could have had their email account hacked.
If there's a link in the scam email, do not click it, otherwise you could unwittingly install malware or ransomware on your device.
Report the scam email to PayPal, Norton and FTC at https://www.ftc.gov/
If you have paid a scammer, the sooner you act, the better. Use the steps (https://consumer.ftc.gov/articles/what-do-if-you-were-scammed) to try to stop a transaction, get a transaction reversed, or get a refund.
Scan your device for malware using free malware removal tools.
Install an anti-phishing software.
Report a Scam
If you have received the Norton PayPal Scam Email or an email that is similar but not the same as the example above, then post it as comment on this article. This helps us to warn users about current scams, monitor trends and disrupt scams where possible.