What is Geek Squad email scam?
Since last year, email scams have targeted victims by claiming that Geek Squad has renewed their yearly membership subscriptions. Some of the scam renewal emails mentioned Geek Squad, Geek Squad Best Buy Service, Geek Total Protection, Geek Squad Internet Security, Geek Squad Complete Network Security, Geek Squad Antivirus Plus, Best Buy-Geek Squad Total Tech Support, Geek Squad Auto-Renewal. We have examined these emails, which are actually part of a well-known "phishing" attack designed to trick recipients into divulging personal information.
The phone numbers listed in some of the Geek Squad scam emails were +1-808-666-6112, +1-888-297-0415, +1-800–306–2981, +1-888-738-8146, +1-844-480-3111, +1-469-297-2928, +1-888-319-1527. We called some of these numbers knowing it was all a ruse. These calls were answered by scammers who seemed to be in foreign call centers. These scammers asked for the invoice number in the email.
This is known as a refund scam. The emails claimed that the Geek Squad renewal payment was processed successfully. However, it was nothing more than a fake designed to deceive recipients into giving up confidential information.
The goal of the scammers is to trick recipients into calling a fake hotline and claiming a refund for a supposed Geek Squad product renewal. Finally, the scammers requested bank account or credit card details, claiming that a refund would be processed. In fact, they would take the financial information and try to steal the funds.
QUICK LINKS
Geek Squad Email Scam Example #1
One Geek Squad scam email we reviewed was from orkforpppddiko@gmail.com. It claimed that an "3 years contract" for Antivirus Plus had been renewed. The email also listed the phone number that began with the 800 area code. The phone number and email address are managed by scammers:
Hi,
This email is from Geek Squad and the reason why we are sending this email to you because we like to inform you that your subscription to Antivirus Plus which you have signed up to Geek Squad has been expired so the service is automatically renewed on May 19, 2022.

The charge will be $299.99 for 3 years contract and it will be auto-debited from your saved bank account.
Geek Squad Email Scam Example #2
Another Geek Squad scam email was from kikoro290@gmail.com. It mentioned Geek Total Protection. Like the previous one, this email was sent from a suspicious address, and it also contains the fake product name and the phone number that began with the 808 area code. The email address and phone number are part of the scam and are not managed by Geek Squad:
Dear Customer,

Thank You for choosing Geek Total Protection.
We have renewed your Subscription as per your electronic consent.
Hope you are with us.
This email is to inform you that an amount of $499.99 has been charged for the services.
For any assistance, please call: +1-808-666-6112.

Order details:
Invoice Number: GS-93404-0841036
Registered Email: –
Service: Geek Total Protection
Renewal Date: May 20, 2022
Next Renewal: May 20, 2023
Item Price: $499.99
Shipping: $0.0
Total Price: $499.99
Note: For any service activation queries or support or if you want to cancel the subscription please call us within 24 Hours for easy assistance.
We are here to assist you with every aspect.

warm regards,
Geek Squad Team
+1-808-666-6112
Copyright © Geek Squad Team | 2022
Geek Squad Email Scam Example #3
Recently one of our readers posted another example of the Geek Squad email renewal scam. Looks like it's another variant of the same scam.
GEEK SQUAD
Support Team : (844) 480-3111
Cancellation : (844) 870-3452

Dear Member,
Thank you for remaining a part of our Geek Squad family. Geek Squad holds a very
strong reputation in the industry and as a goodwill gesture, we are not willing to
charge our customers this year for their auto-renewal.
This email is being sent to all the users whose auto-renewal was not stopped and
was charged by the automatic debit system.
Customer Care 24*7: (844) 480 3111
Product Description
Account Type: Personal Home Subscription
Quantity:1 Device
Product:Geek Squad Internet Security
Current Plan:3 Years Subscription
Renewal Date: June 10, 2022
Payment Mode: Auto Debit
Order Total: $399.99
Payment Status: Successful
This Subscription Will Auto-Renew Every 3 Years Unless You Turn It Off. No Later Than 24 hrs. Before The End Of The Subscription Period.
If you wish to cancel this subscription Contact our Support Team (844) 480-3111 (Toll-free) for Any Queries.
Geek Squad Device Security Entitlement only PC or Mac.

Thank you,
Geek Squad

This email is being sent by Geek Squad as you have subscribed to our services
Copyright © 2022 GEEK SQUAD®, All Rights Reserved
Geek Squad, Inc.
3948 Hickory Heights Drive, Baltimore, MD 21202, US
Geek Squad Email Scam Example #4
A fourth email we reviewed came from the email address 891kdorko@gmail.com. The scammer's phone number was emailed as 1-(888)-738-8146. We called the number provided and got an answering machine with a woman's voice on it. The goal here again was to lure unsuspecting victims into contacting the scammers to try and get a refund. This again will lead to the theft of money from the victim's financial accounts. It read:
Geek Squad

Dear Customer,
Thank you for choosing our services. We are reaching out to remind you that your computer Protection Annual subscription has expired and Auto-Renewed today.
We would like to thank you for the completion of the maintenance plan.
We have auto-renewed your plan for 2 years and charged $399.99 against your account.
We understand that you are busy and hence could not get through to you when we are trying to contact you.

Hotline:
1-(888)-738-8146
Order Summary
Product : Complete Network Security
Renewal Status : Auto-Renewed
Renewal Amount : USD399.99

If you have any question about this invoice or you want to cancel the subscription you can reach out our Customer Support at
1-(888)-738-8146
Geek Squad Email Scam Example #5
A fifth example of the scam email came from "Geek Squad Auto-Renewal". It read:
Dear
This is to inform you about your Geek Squad Subscription that has expired and is on automatic renewal at Premium Plan of $299.99 yearly. (Your subscription is set to renew automatically. we'll use the payment info we have on file to process your payment 7 days before your renewal date.)
Auto-Debit Date: April 21, 2022
Amount:
$299.99
Services: Best Buy-Geek Squad Total Tech Support For 1 Year
Issue with the transaction? If you have any questions regarding this automatic charge or upgrade please contact us anytime at our customer support number +1 888 899 0155 immediately. (You are advised to contact us for any changes before the auto debit date)
Billing/Refund Department
The phone number listed by the scammers was +1 888 899 0155.
Geek Squad Email Scam Example #6
This email went around in January 2022 from the email address JooKitodo2022a@gmail.com:
Your Membership has been Renewed

Tech Support

We Are Renewing lt For You

Dear Customer Your Personal Subscription With Geek Squad will Expire Today. The Subscription Will
Be Auto Renewed Hope You Are With The Services.

Customer Support-+1 818 963 9440
Order H16589G5-59856

PRODUCTION DESCRIPTION

Account Type:- Personal Home Subscription
Product :- Geek Squad PC Support
Quantity: -1
Payment Mode: Auto Debit
Renewal Amount =$ 399.59

The Email Confirms That You've Renewed Your 1 Year Subscription To Geek Squad For $ 399.59 On 25
April 2022

This Subscription Will Auto Renew Every 1 Year Unless You Turn It Off _No Later Than 48 hours Of
Before The End Of Subscription Period

To Cancel The Subscription You Can Reach Us At +1 818 963 9440

Regards
Geek Squad Team
The phone number listed by the scammers was +1-818-963-9440.
Geek Squad Email Scam Example #7
Another version of this scam. Scammers want victims to call their phone number and provide confidential information such as credit card information, personal information, and so on. There are several signs that allow us to know that this is a scam email: scammers are using a Google mail account (not a Geek Squad email address), random phone numbers (e.g., 1-808 xxx – xxxx, 1-888-xxx-xxxx).
Admired User,

Writing this mail to inform you that your purchase has been successful for the renewal of Geek Squad Secure Service.

$399USD has been auto charged against your A/C as you had selected an auto renewal plan. We have enabled the plan you have chosen for your device for the next 3 year.

This service includes repairing/replacement of your device, online support through Geek Squad Team and many more.

Total plan details here:

Invoice ID: WA01_CA319

Product Name: Geek Squad (Auto Renewal)

Date of purchase: 17 July 2022

Expires after: 3 year

Charged: $399USD

We admire you being our regular user. If you face any problem regarding this purchase/subscription, Feel free to reach us

Between Mon – Sat (8:30 AM To 8:00 PM EST)

Geek squad.
Geek Squad Email Scam Example #8
A new variant of Geek Squad Email scam was discovered. Its features:
Scammmers Phone Numbers: +1 (469) 297-2928, +1 (888) 319-1527; scam emails sent from Microsoft hotmail; Invoice No: GSKBBW360AXV129; Customer ID: 239028916.
Geek SQUAD
Invoice No: GSKBBW360AXV129
Your Subscription with GEEK SQUAD will Renew Today and $389.99 is about to be Debited from your account by Today. The Debited Amount will be reflected within the next 24. In case of any further clarifications or block the auto-renewal service please reach out Customer Help Center.
Billed To
Customer ID: 239028916
Invoice Number: GSKBBW360AXV129
Renewal Date: July 18, 2022
Description Quantity Unit Price Total
Geek Squad Best Buy Service (One Year Subscription) $389.99 $389.99
Subtotal $389.99
Sales Tax $0.00
Total $389.99

If you didn't authorize this Charge, you have 24 Hrs. To cancel & get an instant refund of your annual subscription, please contact our customer care: +1 (469) 297-2928

Sincerely,
Geek-Squad™ Best Buy Customer Care
+1 (469) 297-2928
Copyright @ GEEK SQUAD, 2022
Geek Squad Email Scam Example #9
A new variant of Geek Squad Email scam was discovered. Its features:
Scammmers Phone Number: +(888) 657-0157;
Helpline: -(888) 657-0157

Dear Customer,

This is a notification mall regarding your Subscription.
Your Subscription plan has been auto-renewed successfully.

Your amount of $399.99 has been auto- debited from your registered account.

The payment status will reflect in your account within the next 24 hours.
Your payment details are given below:

Total amount: $399.99

If you want any kind of information regarding this subscription, you can contact us at our given below number.
Helpdesk + 1 (888) 657-0157
Geek Squad Scam Emails
Threat Summary
| | |
| --- | --- |
| Name | Geek Squad Email Scam |
| Type | fake Geek Squad email renewal, Tech Support Scam, Phishing, Social Engineering |
| Email Subject Line | "Your Order Receipt From xxx,Check Your Invoice,Thank You", "Thank you for your order Order No :xxx", "Transaction confirmation", "PAYMENT FOR ENABLED PLAN# xxxxx", "Order Complete" |
| Fake Claims | Geek Squad Subscription has been renewed |
| Scammers Phone Numbers | +1-808-666-6112, +1-888-899-0155, +1-888-297-0415, +1-818-963-9440, +1-800–306–2981, +1-888-738-8146, +1-844-480-3111, +1 (469) 297-2928, +1 (888) 319-1527, + 1 (888) 657-0157 |
| Distribution methods | spam email campaigns |
| Removal | Links in scam emails can lead to sites or files with viruses or other malicious content. To scan your computer for viruses, find and remove malware, we recommend using the steps below. |
Email scams examples
Geek Squad email scam is just one of the many types of scam emails that exist. In some emails, scammers use threats to intimidate and bully a victim into paying, others contain links to malicious files. Norton Subscription Has Expired, Unfortunately, there are some bad news for you, DHL Undelivered Package, Your computer was infected with my malware are some of the scam emails we reported recently.
What to do when you receive the scam email?
We advise everyone who receives the "Geek Squad" email to follow a few simple steps below. If you receive such emails regularly, then this may be a sign that there is adware, trojan or spyware on your device. In this case, you need to scan the device for malware, remove unnecessary and suspicious apps.
Do not believe this email.
NEVER share your personal information.
If there's a link in the scam email, do not click it.
Report the scam email to the FTC at https://www.ftc.gov/
Scan your PC for malware.
Install an anti-phishing software.
How to scan your computer for malware
If you suspect that your computer is infected with spyware, you accidentally clicked on a link in the scam email, or just want to scan your computer for malware, then use one of the best free malware removal tools. One of these utilities is MalwareBytes Anti Malware. It is a lightweight utility which designed to use alongside your antivirus software, detecting and removing malicious software, adware and PUPs that other security tools miss. MalwareBytes Anti Malware is easy to use, fast, does not use many resources and have great detection and removal rates.
First, please go to the link below, then click the 'Download' button in order to download the latest version of MalwareBytes.

When the downloading process is done, close all windows on your computer. Further, launch the file named MBSetup. If the "User Account Control" dialog box pops up like below, click the "Yes" button.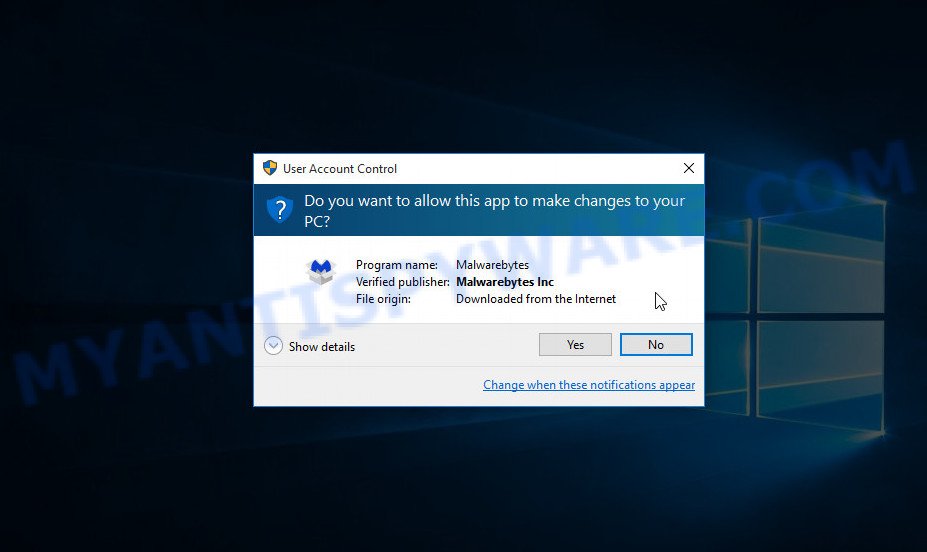 It will show the Setup wizard which will assist you install MalwareBytes on the computer. Follow the prompts and do not make any changes to default settings.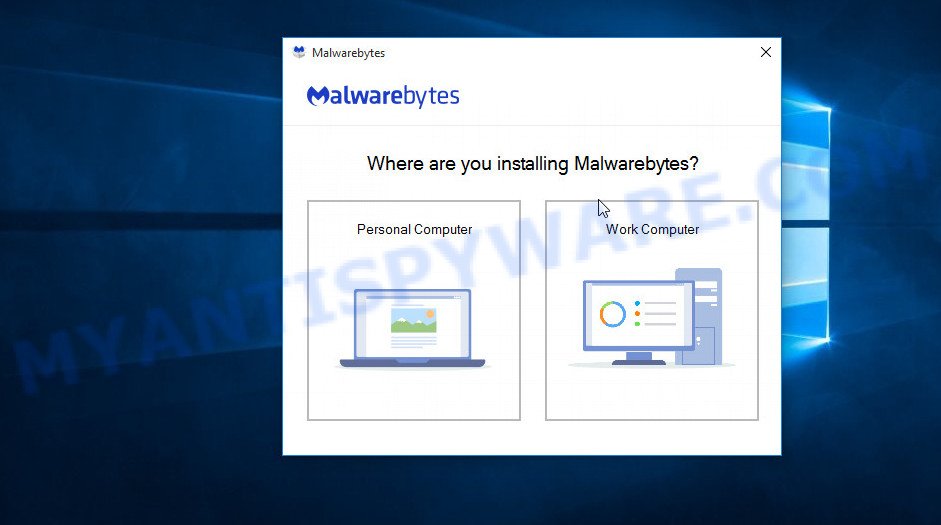 After the setup is complete successfully, press "Get Started" button. Then MalwareBytes AntiMalware will automatically run and you can see its main window such as the one below.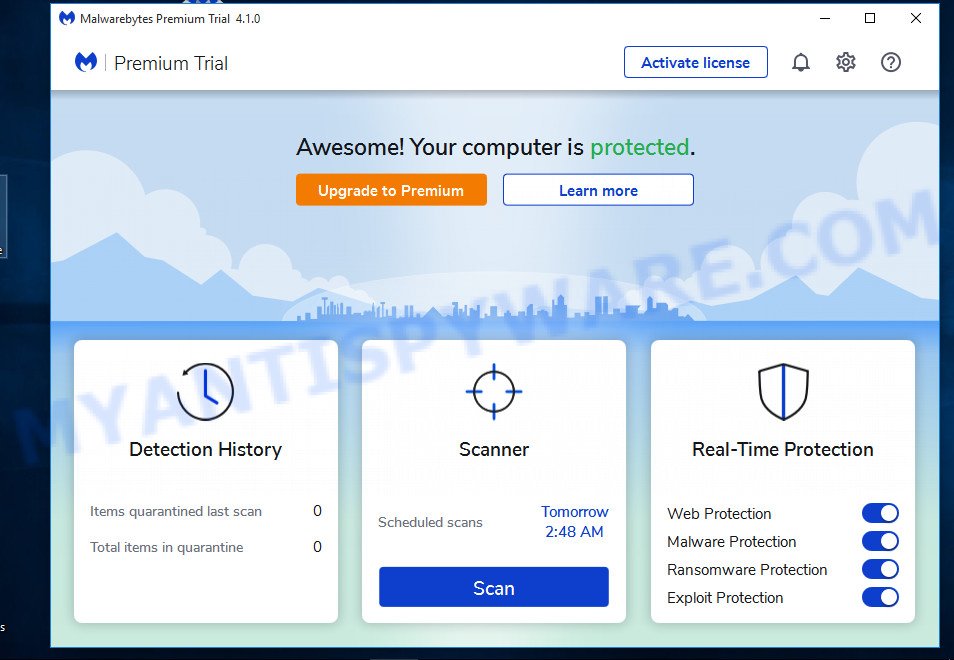 Next, click the "Scan" button for scanning your computer for malicious software and other security threats. A system scan can take anywhere from 5 to 30 minutes, depending on your computer. While MalwareBytes is scanning, you can see how many objects it has identified as threat.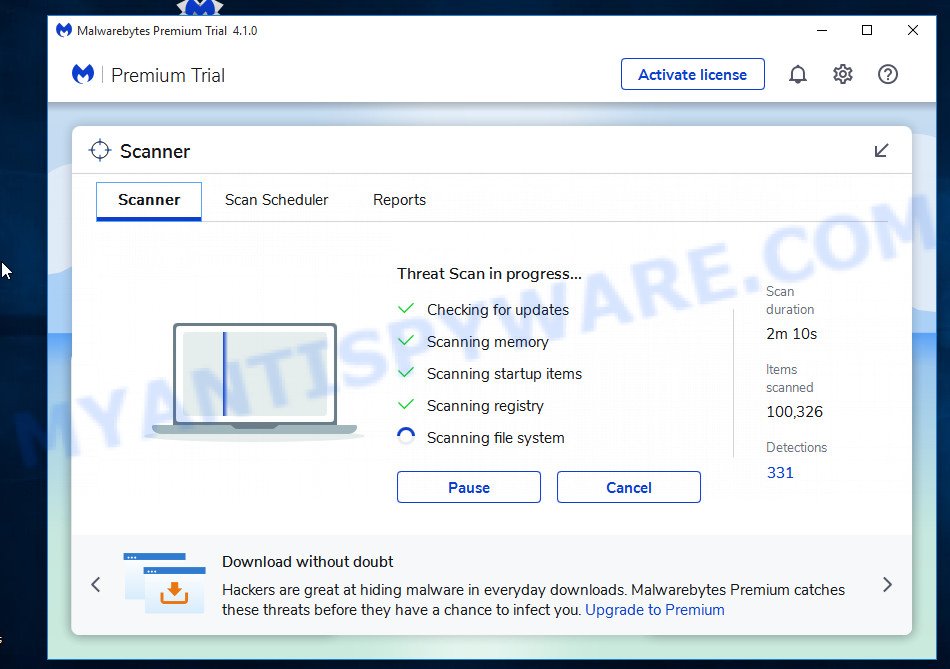 When the scanning is done, the results are displayed in the scan report. In order to remove all threats, simply press "Quarantine" button.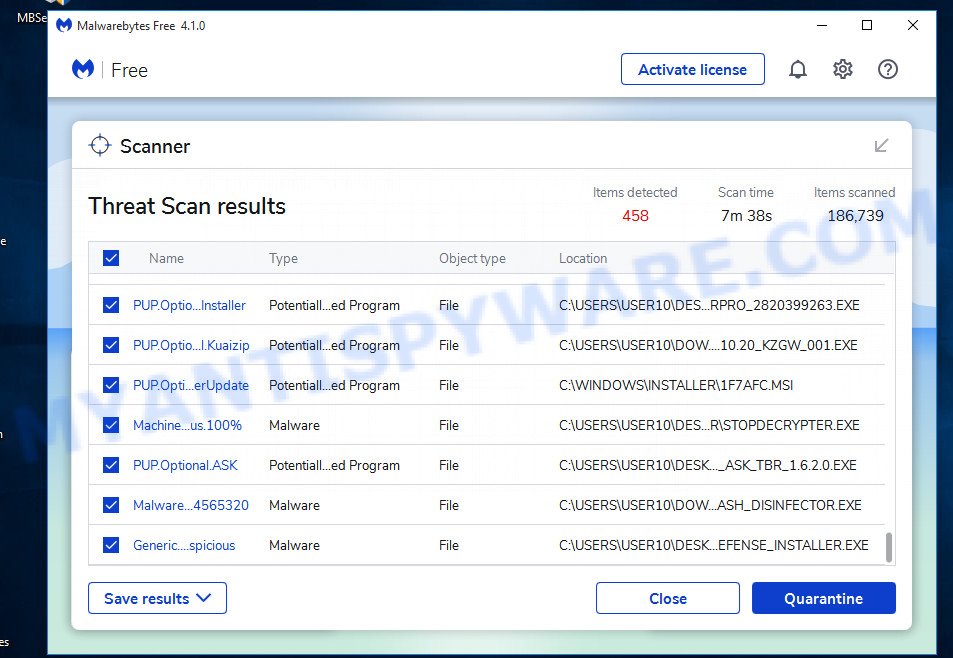 We suggest you look at the following video, which completely explains the process of using MalwareBytes to remove malicious software.
If you are having issues with malware removal, then check out Kaspersky virus removal tool. It can easily remove trojans, spyware, browser hijackers, adware, worms and ransomware with all their components such as files, folders and registry entries. Visit the page linked below to download the latest version of Kaspersky virus removal tool for Windows.

How to protect yourself from phishing, malicious and misleading websites
If you want to protect yourself from phishing sites, install an ad blocking program like AdGuard. It can block malicious and misleading websites, stop unwanted ads and pop-ups while using Internet Explorer, Google Chrome, Firefox and Edge. So, if you like to surf the Internet and want to protect your computer from phishing scams, then AdGuard is your best choice.
Installing the AdGuard is simple. First you'll need to download AdGuard by clicking on the link below.

Adguard download
24948 downloads
Version: 6.4
Author: © Adguard
Category: Security tools
Update: November 15, 2018
After downloading it, double-click the downloaded file to start it. The "Setup Wizard" window will show up on the computer screen as displayed below.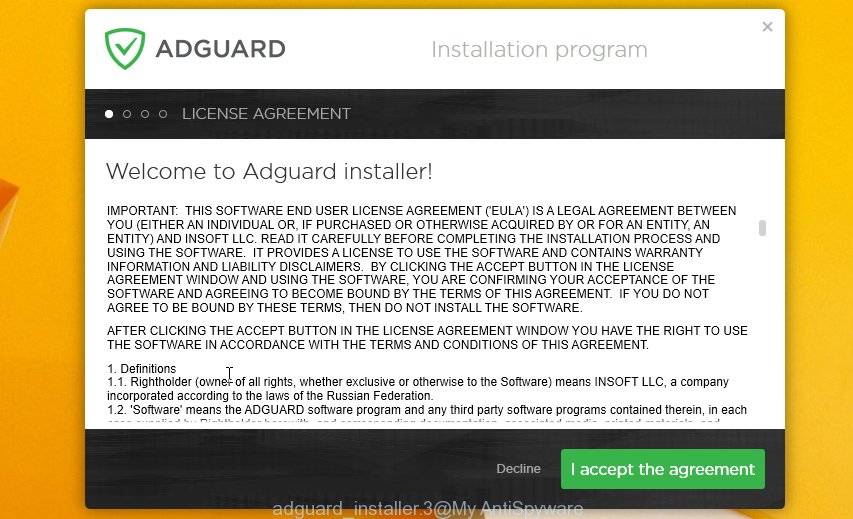 Follow the prompts. AdGuard will then be installed and an icon will be placed on your desktop. A window will show up asking you to confirm that you want to see a quick guide as displayed on the screen below.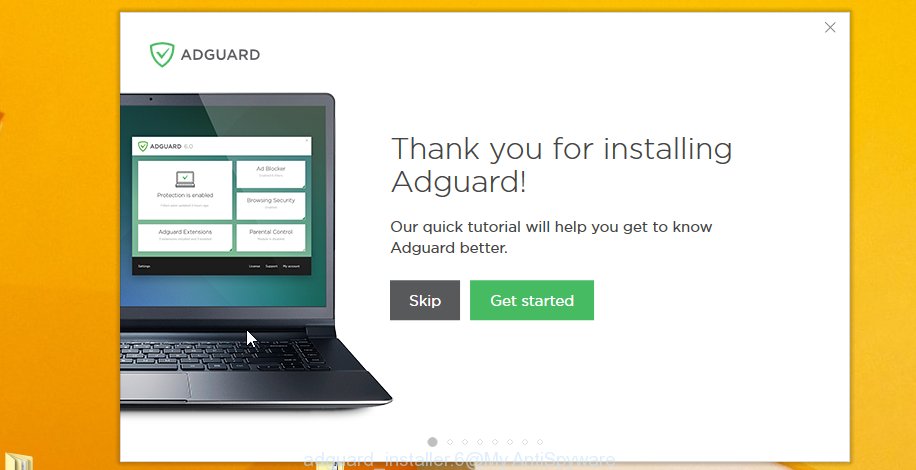 Click "Skip" button to close the window and use the default settings, or press "Get Started" to see an quick guidance which will assist you get to know AdGuard better.
Each time, when you start your system, AdGuard will start automatically and stop unwanted advertisements, block phishing, as well as other harmful or misleading websites. For an overview of all the features of the application, or to change its settings you can simply double-click on the AdGuard icon, which can be found on your desktop.
Finish words
If you receive an email that is similar but not the same as the example above, make sure you remove any personal info in this message, then post it as comment on this article. It will help our team monitor the latest scams.