𝙸'𝚖 𝚗𝚘𝚝 𝚐𝚘𝚒𝚗𝚐 𝚝𝚘 𝚘𝚟𝚎𝚛𝚕𝚘𝚘𝚔 𝚢𝚘𝚞𝚛 𝚞𝚗𝚊𝚌𝚌𝚎𝚙𝚝𝚊𝚋𝚕𝚎 𝚊𝚝𝚝𝚒𝚝𝚞𝚍𝚎 is a new Bitcoin Email Scam that has been spreading on the Internet recently. Many people around the world have received similar email letters and reported about them on Reddit, other websites and public forums. We have repeatedly written about such emails, for example here and here.
Scammers use threats to get a ransom from the recipients of the emails. Despite the fact that these email messages are very suspicious, and most people simply delete them, scammers hope that at least a few recipients will be naive enough and pay a ransom.
There are variations in the wording of the email body, but all of these messages are basically the same. Below are some examples of this spam:
Example 1:
𝙸'𝚖 𝚗𝚘𝚝 𝚐𝚘𝚒𝚗𝚐 𝚝𝚘 𝚘𝚟𝚎𝚛𝚕𝚘𝚘𝚔 𝚢𝚘𝚞𝚛 𝚞𝚗𝚊𝚌𝚌𝚎𝚙𝚝𝚊𝚋𝚕𝚎 𝚊𝚝𝚝𝚒𝚝𝚞𝚍𝚎. 𝙼𝚢 𝚎𝚢𝚎𝚜 𝚊𝚛𝚎 𝚊𝚕𝚛𝚎𝚊𝚍𝚢 𝚕𝚘𝚌𝚔𝚎𝚍 𝚊𝚝 𝚢𝚘𝚞. 𝚀𝚞𝚒𝚝 𝚌𝚑𝚒𝚕𝚕𝚒𝚗𝚐 𝚒𝚗 𝚢𝚘𝚞𝚛 𝚑𝚘𝚞𝚜𝚎 𝚊𝚕𝚕 𝚍𝚊𝚢 𝚊𝚗𝚍 𝚏𝚞𝚌𝚔𝚒𝚗𝚐 𝚊𝚛𝚘𝚞𝚗𝚍, 𝚢𝚘𝚞𝚛 𝚙𝚕𝚊𝚢𝚝𝚒𝚖𝚎 𝚏𝚒𝚗𝚒𝚜𝚑𝚎𝚜 𝚗𝚘𝚠, 𝚏𝚞𝚌𝚔𝚏𝚊𝚌𝚎. 𝙸𝚏 𝚢𝚘𝚞 𝚏𝚎𝚎𝚕 𝚢𝚘𝚞 𝚌𝚊𝚗 𝚜𝚒𝚖𝚙𝚕𝚢 𝚗𝚎𝚐𝚕𝚎𝚌𝚝 𝚝𝚑𝚎 𝚊𝚌𝚝𝚞𝚊𝚕 𝚎𝚖𝚊𝚒𝚕 𝚊𝚗𝚍 𝚖𝚘𝚟𝚎 𝚘𝚗 𝚠𝚒𝚝𝚑 𝚢𝚘𝚞𝚛 𝚎𝚟𝚎𝚛𝚢𝚍𝚊𝚢 𝚕𝚒𝚏𝚎, 𝚢𝚘𝚞 𝚊𝚛𝚎 𝚞𝚗𝚍𝚘𝚞𝚋𝚝𝚎𝚍𝚕𝚢 𝚏𝚞𝚌𝚔𝚒𝚗𝚐 𝚠𝚛𝚘𝚗𝚐, 𝚖𝚊𝚝𝚎. 𝙸 𝚊𝚖 𝚙𝚘𝚜𝚝𝚒𝚗𝚐 𝚝𝚑𝚎 𝚟𝚒𝚍𝚎𝚘 𝚛𝚎𝚌𝚘𝚛𝚍𝚒𝚗𝚐𝚜 𝚌𝚞𝚛𝚛𝚎𝚗𝚝𝚕𝚢 𝚘𝚗 𝟸 𝚊𝚍𝚞𝚕𝚝 𝚙𝚘𝚛𝚗 𝚜𝚒𝚝𝚎𝚜. 𝙸 𝚊𝚖 𝚌𝚎𝚛𝚝𝚊𝚒𝚗 𝚎𝚟𝚎𝚛𝚢𝚘𝚗𝚎 𝚠𝚘𝚞𝚕𝚍 𝚍𝚎𝚏𝚒𝚗𝚒𝚝𝚎𝚕𝚢 𝚑𝚊𝚟𝚎 𝚏𝚞𝚗 𝚠𝚒𝚝𝚑 𝚢𝚘𝚞𝚛 𝚟𝚒𝚍𝚎𝚘 𝚌𝚕𝚒𝚙𝚜. 𝚈𝚘𝚞 𝚑𝚊𝚟𝚎 𝚖𝚊𝚍𝚎 𝚖𝚎 𝚊𝚐𝚐𝚛𝚊𝚟𝚊𝚝𝚎𝚍, 𝚊𝚗𝚍 𝚝𝚑𝚒𝚜 𝚠𝚊𝚜 𝚊𝚗 𝚊𝚌𝚝𝚒𝚘𝚗 𝙸 𝚑𝚊𝚍 𝚝𝚘 𝚌𝚑𝚘𝚘𝚜𝚎. 𝙸𝚏 𝚢𝚘𝚞 𝚍𝚘𝚗'𝚝 𝚜𝚎𝚗𝚍 𝚝𝚑𝚎 𝚖𝚘𝚗𝚎𝚢 (𝚢𝚘𝚞 𝚋𝚎𝚝, 𝚙𝚛𝚒𝚌𝚎 𝚑𝚊𝚜 𝚒𝚗𝚌𝚛𝚎𝚊𝚜𝚎𝚍 𝚗𝚘𝚠!) 𝚝𝚘 𝚝𝚑𝚎 𝚞𝚗𝚍𝚎𝚛𝚗𝚎𝚊𝚝𝚑 𝚋𝚒𝚝𝚌𝚘𝚒𝚗 𝚊𝚍𝚍𝚛𝚎𝚜𝚜, 𝙸 𝚠𝚒𝚕𝚕 𝚎-𝚖𝚊𝚒𝚕 𝚢𝚘𝚞𝚛 𝚟𝚒𝚍𝚎𝚘 𝚝𝚘 𝚢𝚘𝚞𝚛 𝚙𝚎𝚛𝚜𝚘𝚗𝚊𝚕 𝚏𝚛𝚒𝚎𝚗𝚍𝚜, 𝚏𝚊𝚖𝚒𝚕𝚢 𝚖𝚎𝚖𝚋𝚎𝚛𝚜, 𝚎𝚟𝚎𝚛𝚢 𝚜𝚒𝚗𝚐𝚕𝚎 𝚏𝚞𝚌𝚔𝚒𝚗𝚐 𝚙𝚎𝚛𝚜𝚘𝚗 𝚢𝚘𝚞 𝚛𝚎𝚌𝚘𝚐𝚗𝚒𝚣𝚎. 𝙱𝚃𝙲 𝙰𝚍𝚍𝚛𝚎𝚜𝚜: 1CNGA**mgz7vNZTPJntn7jo**XiqHEhd1C6Qw5 𝙲𝚘𝚙𝚢 & 𝚙𝚊𝚜𝚝𝚎 𝚒𝚝 𝚊𝚗𝚍 𝚛𝚎𝚖𝚘𝚟𝚎 ** 𝚏𝚛𝚘𝚖 𝚒𝚝 𝚀𝚞𝚊𝚗𝚝𝚒𝚝𝚢: 𝟶.𝟺 𝙱𝚃𝙲 𝚃𝚒𝚌𝚔 𝚝𝚒𝚌𝚔. 𝚃𝚒𝚖𝚎 𝚒𝚜 𝚍𝚎𝚏𝚒𝚗𝚒𝚝𝚎𝚕𝚢 𝚃𝙸𝙲𝙺𝙸𝙽𝙶. 𝚆𝚒𝚝𝚑 𝚎𝚟𝚎𝚛𝚢 𝚜𝚒𝚗𝚐𝚕𝚎 𝚙𝚊𝚜𝚜𝚒𝚗𝚐 𝚖𝚘𝚖𝚎𝚗𝚝, 𝚢𝚘𝚞 𝚠𝚒𝚕𝚕 𝚋𝚎 𝚊 𝚝𝚒𝚗𝚢 𝚝𝚊𝚍 𝚗𝚎𝚊𝚛𝚎𝚛 𝚝𝚘 𝚎𝚖𝚋𝚛𝚊𝚜𝚜𝚎𝚖𝚎𝚗𝚝 𝚙𝚕𝚞𝚜 𝚍𝚒𝚜𝚐𝚛𝚊𝚌𝚎 𝚏𝚘𝚛 𝚕𝚒𝚏𝚎 𝚕𝚘𝚗𝚐. 𝙸 𝚋𝚎𝚕𝚒𝚎𝚟𝚎 𝚢𝚘𝚞 𝚠𝚒𝚕𝚕 𝚖𝚊𝚔𝚎 𝚞𝚗𝚚𝚞𝚎𝚜𝚝𝚒𝚘𝚗𝚊𝚋𝚕𝚢 𝚝𝚑𝚎 𝚋𝚎𝚜𝚝 𝚍𝚎𝚌𝚒𝚜𝚒𝚘𝚗 𝚊𝚗𝚍 𝚍𝚎𝚕𝚒𝚟𝚎𝚛 𝚖𝚎 𝚖𝚢 𝚏𝚎𝚎. 𝙾𝚛 𝚎𝚕𝚜𝚎 𝚢𝚘𝚞 𝚌𝚊𝚗 𝚒𝚗𝚒𝚝𝚒𝚊𝚝𝚎 𝚙𝚛𝚎𝚙𝚊𝚛𝚒𝚗𝚐 𝚢𝚘𝚞𝚛𝚜𝚎𝚕𝚏 𝚝𝚘 𝚋𝚎 𝚖𝚒𝚜𝚎𝚛𝚜𝚋𝚕𝚎 𝚏𝚛𝚘𝚖 𝚝𝚑𝚎 𝚌𝚘𝚗𝚌𝚎𝚚𝚞𝚎𝚗𝚌𝚎𝚜. 𝚈𝙾𝚄 𝙷𝙰𝚅𝙴 𝟷𝟾 𝙷𝙾𝚄𝚁𝚂 𝙰𝙽𝙳 𝟺𝟷 𝙼𝙸𝙽𝚄𝚃𝙴𝚂 𝙿.𝚂: 𝙸𝚏 𝚢𝚘𝚞 𝚝𝚎𝚕𝚕 𝚘𝚝𝚑𝚎𝚛 𝚙𝚎𝚘𝚙𝚕𝚎 𝚊𝚋𝚘𝚞𝚝 𝚝𝚑𝚒𝚜 𝚎-𝚖𝚊𝚒𝚕… 𝙸𝚏 𝚢𝚘𝚞 𝚙𝚘𝚜𝚝 𝚒𝚝 𝚘𝚗𝚕𝚒𝚗𝚎… 𝙸𝚏 𝚢𝚘𝚞 𝚏𝚊𝚒𝚕 𝚝𝚘 𝚙𝚛𝚘𝚟𝚒𝚍𝚎 𝚝𝚑𝚎 𝚜𝚎𝚝𝚝𝚕𝚎𝚖𝚎𝚗𝚝 (𝚏𝚘𝚛 𝚓𝚞𝚜𝚝 𝚊𝚋𝚘𝚞𝚝 𝚊𝚗𝚢 𝚏𝚞𝚌𝚔𝚒𝚗𝚐 𝚛𝚎𝚊𝚜𝚘𝚗) 𝙸 𝚠𝚒𝚕𝚕 𝙽𝚘𝚝 𝚊𝚕𝚕𝚘𝚠 𝚒𝚝!
Example 2:
𝙸'𝚖 𝚗𝚘𝚝 𝚐𝚘𝚒𝚗𝚐 𝚝𝚘 𝚗𝚎𝚐𝚕𝚎𝚌𝚝 𝚢𝚘𝚞𝚛 𝚞𝚗𝚊𝚌𝚌𝚎𝚙𝚝𝚊𝚋𝚕𝚎 𝚊𝚝𝚝𝚒𝚝𝚞𝚍𝚎. 𝙼𝚢 𝚎𝚢𝚎𝚜 𝚊𝚛𝚎 𝚕𝚘𝚌𝚔𝚎𝚍 𝚊𝚝 𝚢𝚘𝚞. 𝚂𝚃𝙾𝙿 𝚛𝚎𝚜𝚝𝚒𝚗𝚐 𝚒𝚗 𝚢𝚘𝚞𝚛 𝚑𝚘𝚞𝚜𝚎 𝚊𝚕𝚕 𝚍𝚊𝚢 𝚊𝚗𝚍 𝚜𝚌𝚛𝚎𝚠𝚒𝚗𝚐 𝚊𝚛𝚘𝚞𝚗𝚍, 𝚢𝚘𝚞𝚛 𝚙𝚕𝚊𝚢 𝚝𝚒𝚖𝚎 𝚎𝚗𝚍𝚜 𝚗𝚘𝚠, 𝚏𝚞𝚌𝚔𝚏𝚊𝚌𝚎. 𝙸𝚏 𝚢𝚘𝚞 𝚏𝚎𝚎𝚕 𝚢𝚘𝚞 𝚌𝚊𝚗 𝚜𝚒𝚖𝚙𝚕𝚢 𝚒𝚐𝚗𝚘𝚛𝚎 𝚝𝚑𝚎 𝚎𝚖𝚊𝚒𝚕 𝚊𝚗𝚍 𝚐𝚘 𝚘𝚗 𝚠𝚒𝚝𝚑 𝚢𝚘𝚞𝚛 𝚕𝚒𝚏𝚎, 𝚢𝚘𝚞 𝚊𝚛𝚎 𝚞𝚗𝚍𝚘𝚞𝚋𝚝𝚎𝚍𝚕𝚢 𝚏𝚞𝚌𝚔𝚒𝚗𝚐 𝚖𝚒𝚜𝚝𝚊𝚔𝚎𝚗, 𝚙𝚊𝚕. 𝙸 '𝚖 𝚙𝚞𝚋𝚕𝚒𝚜𝚑𝚒𝚗𝚐 𝚝𝚑𝚎 𝚟𝚒𝚍𝚎𝚘𝚜 𝚒𝚖𝚖𝚎𝚍𝚒𝚊𝚝𝚎𝚕𝚢 𝚘𝚗 𝟸 𝚊𝚍𝚞𝚕𝚝 𝚙𝚘𝚛𝚗 𝚠𝚎𝚋𝚜𝚒𝚝𝚎𝚜. 𝙸 𝚊𝚖 𝚜𝚞𝚛𝚎 𝚙𝚎𝚘𝚙𝚕𝚎 𝚠𝚘𝚞𝚕𝚍 𝚍𝚎𝚏𝚒𝚗𝚒𝚝𝚎𝚕𝚢 𝚝𝚊𝚔𝚎 𝚙𝚕𝚎𝚊𝚜𝚞𝚛𝚎 𝚒𝚗 𝚢𝚘𝚞𝚛 𝚟𝚒𝚍𝚎𝚘. 𝚈𝚘𝚞 𝚑𝚊𝚟𝚎 𝚖𝚊𝚍𝚎 𝚖𝚎 𝚏𝚞𝚛𝚒𝚘𝚞𝚜, 𝚊𝚗𝚍 𝚝𝚑𝚒𝚜 𝚠𝚊𝚜 𝚊𝚗 𝚖𝚎𝚊𝚜𝚞𝚛𝚎𝚜 𝙸 𝚗𝚎𝚎𝚍𝚎𝚍 𝚝𝚘 𝚌𝚑𝚘𝚘𝚜𝚎. 𝙸𝚏 𝚢𝚘𝚞 𝚍𝚘 𝚗𝚘𝚝 𝚜𝚎𝚗𝚍 𝚝𝚑𝚎 𝚖𝚘𝚗𝚎𝚢 (𝚒𝚗𝚍𝚎𝚎𝚍, 𝚏𝚎𝚎 𝚑𝚊𝚜 𝚐𝚘𝚗𝚎 𝚞𝚙 𝚗𝚘𝚠!) 𝚝𝚘 𝚝𝚑𝚎 𝚞𝚗𝚍𝚎𝚛 𝚋𝚒𝚝𝚌𝚘𝚒𝚗 𝚊𝚍𝚍𝚛𝚎𝚜𝚜, 𝙸 𝚠𝚒𝚕𝚕 𝚎𝚖𝚊𝚒𝚕 𝚢𝚘𝚞𝚛 𝚟𝚒𝚍𝚎𝚘 𝚌𝚕𝚒𝚙 𝚝𝚘 𝚢𝚘𝚞𝚛 𝚙𝚎𝚛𝚜𝚘𝚗𝚊𝚕 𝚏𝚛𝚒𝚎𝚗𝚍𝚜, 𝚏𝚊𝚖𝚒𝚕𝚢 𝚖𝚎𝚖𝚋𝚎𝚛𝚜, 𝚊𝚕𝚖𝚘𝚜𝚝 𝚎𝚟𝚎𝚛𝚢 𝚜𝚒𝚗𝚐𝚕𝚎 𝚏𝚞𝚌𝚔𝚒𝚗𝚐 𝚑𝚞𝚖𝚊𝚗 𝚋𝚎𝚒𝚗𝚐 𝚢𝚘𝚞 𝚔𝚗𝚘𝚠. 𝙱𝚃𝙲 𝙰𝚍𝚍𝚛𝚎𝚜𝚜: 1JcAf**Bm8ojyBC82Hqj4r**wiXVyGU3vLsCDM 𝙲𝚘𝚙𝚢 & 𝚙𝚊𝚜𝚝𝚎 𝚒𝚝 𝚊𝚗𝚍 𝚛𝚎𝚖𝚘𝚟𝚎 ** 𝚏𝚛𝚘𝚖 𝚒𝚝 𝚀𝚞𝚊𝚗𝚝𝚒𝚝𝚢: 𝟶.𝟻 𝙱𝚃𝙲 𝚃𝚒𝚌𝚔 𝚝𝚒𝚌𝚔. 𝙿𝚛𝚎𝚌𝚒𝚘𝚞𝚜 𝚝𝚒𝚖𝚎 𝚒𝚜 𝚍𝚎𝚏𝚒𝚗𝚒𝚝𝚎𝚕𝚢 𝚃𝙸𝙲𝙺𝙸𝙽𝙶. 𝚆𝚒𝚝𝚑 𝚎𝚟𝚎𝚛𝚢 𝚜𝚒𝚗𝚐𝚕𝚎 𝚙𝚊𝚜𝚜𝚒𝚗𝚐 𝚖𝚘𝚖𝚎𝚗𝚝, 𝚢𝚘𝚞 𝚠𝚒𝚕𝚕 𝚋𝚎 𝚊 𝚝𝚒𝚗𝚢 𝚋𝚒𝚝 𝚌𝚕𝚘𝚜𝚎𝚛 𝚝𝚘 𝚎𝚖𝚋𝚛𝚊𝚜𝚜𝚎𝚖𝚎𝚗𝚝 𝚊𝚗𝚍 𝚊𝚕𝚜𝚘 𝚊 𝚜𝚎𝚗𝚜𝚎 𝚘𝚏 𝚜𝚑𝚊𝚖𝚎 𝚏𝚘𝚛 𝚕𝚒𝚏𝚎 𝚝𝚒𝚖𝚎. 𝙸 𝚛𝚎𝚊𝚕𝚕𝚢 𝚑𝚘𝚙𝚎 𝚢𝚘𝚞 𝚠𝚒𝚕𝚕 𝚖𝚊𝚔𝚎 𝚝𝚑𝚎 𝚛𝚒𝚐𝚑𝚝 𝚟𝚎𝚛𝚍𝚒𝚌𝚝 𝚊𝚗𝚍 𝚝𝚛𝚊𝚗𝚜𝚏𝚎𝚛 𝚖𝚎 𝚖𝚢 𝚜𝚎𝚝𝚝𝚕𝚎𝚖𝚎𝚗𝚝. 𝙾𝚛 𝚎𝚕𝚜𝚎 𝚢𝚘𝚞 𝚖𝚊𝚢 𝚜𝚝𝚊𝚛𝚝 𝚐𝚎𝚝𝚝𝚒𝚗𝚐 𝚢𝚘𝚞𝚛𝚜𝚎𝚕𝚏 𝚛𝚎𝚊𝚍𝚢 𝚝𝚘 𝚎𝚗𝚍𝚞𝚛𝚎 𝚏𝚛𝚘𝚖 𝚝𝚑𝚎 𝚌𝚘𝚗𝚌𝚎𝚚𝚞𝚎𝚗𝚌𝚎𝚜. 𝚈𝙾𝚄 𝙷𝙰𝚅𝙴 𝟸𝟷 𝙷𝙾𝚄𝚁𝚂 𝙰𝙽𝙳 𝟻𝟸 𝙼𝙸𝙽𝚄𝚃𝙴𝚂 𝙿.𝚂: 𝙸𝚏 𝚢𝚘𝚞 𝚒𝚗𝚏𝚘𝚛𝚖 𝚘𝚝𝚑𝚎𝚛 𝚙𝚎𝚘𝚙𝚕𝚎 𝚊𝚋𝚘𝚞𝚝 𝚝𝚑𝚒𝚜 𝚎𝚖𝚊𝚒𝚕… 𝙸𝚏 𝚢𝚘𝚞 𝚙𝚞𝚋𝚕𝚒𝚜𝚑 𝚒𝚝 𝚘𝚗 𝚝𝚑𝚎 𝚒𝚗𝚝𝚎𝚛𝚗𝚎𝚝… 𝙸𝚏 𝚢𝚘𝚞 𝚏𝚊𝚒𝚕 𝚝𝚘 𝚜𝚎𝚗𝚍 𝚝𝚑𝚎 𝚜𝚎𝚝𝚝𝚕𝚎𝚖𝚎𝚗𝚝 (𝚏𝚘𝚛 𝚊𝚗𝚢 𝚏𝚞𝚌𝚔𝚒𝚗𝚐 𝚛𝚎𝚊𝚜𝚘𝚗) 𝙸 𝚠𝚒𝚕𝚕 𝚌𝚎𝚛𝚝𝚊𝚒𝚗𝚕𝚢 𝙽𝚘𝚝 𝚊𝚌𝚌𝚎𝚙𝚝 𝚒𝚝!
Example 3:
𝙸'𝚖 𝚗𝚘𝚝 𝚐𝚘𝚒𝚗𝚐 𝚝𝚘 𝚒𝚐𝚗𝚘𝚛𝚎 𝚢𝚘𝚞𝚛 𝚞𝚗𝚊𝚌𝚌𝚎𝚙𝚝𝚊𝚋𝚕𝚎 𝚊𝚝𝚝𝚒𝚝𝚞𝚍𝚎. 𝙼𝚢 𝚎𝚢𝚎𝚜 𝚊𝚛𝚎 𝚕𝚘𝚌𝚔𝚎𝚍 𝚊𝚝 𝚢𝚘𝚞. 𝚂𝚃𝙾𝙿 𝚜𝚝𝚊𝚢𝚒𝚗𝚐 𝚊𝚝 𝚢𝚘𝚞𝚛 𝚑𝚘𝚖𝚎 𝚊𝚕𝚕 𝚝𝚑𝚎 𝚝𝚒𝚖𝚎 𝚊𝚗𝚍 𝚜𝚌𝚛𝚎𝚠𝚒𝚗𝚐 𝚊𝚛𝚘𝚞𝚗𝚍, 𝚢𝚘𝚞𝚛 𝚙𝚕𝚊𝚢 𝚝𝚒𝚖𝚎 𝚌𝚘𝚖𝚎𝚜 𝚝𝚘 𝚊𝚗 𝚎𝚗𝚍 𝚗𝚘𝚠, 𝚏𝚞𝚌𝚔𝚏𝚊𝚌𝚎. 𝙸𝚏 𝚢𝚘𝚞 𝚝𝚑𝚒𝚗𝚔 𝚢𝚘𝚞 𝚌𝚊𝚗 𝚜𝚒𝚖𝚙𝚕𝚢 𝚍𝚒𝚜𝚖𝚒𝚜𝚜 𝚝𝚑𝚎 𝚊𝚌𝚝𝚞𝚊𝚕 𝚎-𝚖𝚊𝚒𝚕 𝚊𝚗𝚍 𝚖𝚘𝚟𝚎 𝚘𝚗 𝚠𝚒𝚝𝚑 𝚢𝚘𝚞𝚛 𝚕𝚒𝚏𝚎, 𝚢𝚘𝚞 𝚊𝚛𝚎 𝚞𝚗𝚚𝚞𝚎𝚜𝚝𝚒𝚘𝚗𝚊𝚋𝚕𝚢 𝚏𝚞𝚌𝚔𝚒𝚗𝚐 𝚖𝚒𝚜𝚝𝚊𝚔𝚎𝚗, 𝚏𝚛𝚒𝚎𝚗𝚍. 𝙸 𝚊𝚖 𝚙𝚘𝚜𝚝𝚒𝚗𝚐 𝚝𝚑𝚎 𝚟𝚒𝚍𝚎𝚘 𝚛𝚎𝚌𝚘𝚛𝚍𝚒𝚗𝚐𝚜 𝚛𝚒𝚐𝚑𝚝 𝚊𝚠𝚊𝚢 𝚘𝚗 𝟹 𝚙𝚘𝚛𝚗𝚘 𝚜𝚒𝚝𝚎𝚜. 𝙸 𝚊𝚖 𝚜𝚞𝚛𝚎 𝚎𝚟𝚎𝚛𝚢𝚘𝚗𝚎 𝚠𝚘𝚞𝚕𝚍 𝚎𝚗𝚓𝚘𝚢 𝚢𝚘𝚞𝚛 𝚟𝚒𝚍𝚎𝚘 𝚌𝚕𝚒𝚙𝚜. 𝚈𝚘𝚞 𝚑𝚊𝚟𝚎 𝚖𝚊𝚍𝚎 𝚖𝚎 𝚊𝚐𝚐𝚛𝚊𝚟𝚊𝚝𝚎𝚍, 𝚊𝚗𝚍 𝚝𝚑𝚒𝚜 𝚠𝚊𝚜 𝚊𝚗 𝚖𝚎𝚊𝚜𝚞𝚛𝚎𝚜 𝙸 𝚗𝚎𝚎𝚍𝚎𝚍 𝚝𝚘 𝚝𝚊𝚔𝚎. 𝙸𝚏 𝚢𝚘𝚞 𝚍𝚘 𝚗𝚘𝚝 𝚜𝚎𝚗𝚍 𝚝𝚑𝚎 𝚖𝚘𝚗𝚎𝚢 (𝚒𝚗𝚍𝚎𝚎𝚍, 𝚊𝚖𝚘𝚞𝚗𝚝 𝚑𝚊𝚜 𝚒𝚗𝚌𝚛𝚎𝚊𝚜𝚎𝚍 𝚗𝚘𝚠!) 𝚝𝚘 𝚝𝚑𝚎 𝚍𝚘𝚠𝚗 𝚋𝚎𝚕𝚘𝚠 𝚋𝚒𝚝𝚌𝚘𝚒𝚗 𝚊𝚍𝚍𝚛𝚎𝚜𝚜, 𝙸 𝚠𝚒𝚕𝚕 𝚍𝚎𝚕𝚒𝚟𝚎𝚛 𝚢𝚘𝚞𝚛 𝚟𝚒𝚍𝚎𝚘 𝚏𝚘𝚘𝚝𝚊𝚐𝚎 𝚝𝚘 𝚢𝚘𝚞𝚛 𝚏𝚛𝚒𝚎𝚗𝚍𝚜, 𝚏𝚊𝚖𝚒𝚕𝚢 𝚖𝚎𝚖𝚋𝚎𝚛𝚜, 𝚎𝚊𝚌𝚑 𝚊𝚗𝚍 𝚎𝚟𝚎𝚛𝚢 𝚜𝚒𝚗𝚐𝚕𝚎 𝚏𝚞𝚌𝚔𝚒𝚗𝚐 𝚑𝚞𝚖𝚊𝚗 𝚋𝚎𝚒𝚗𝚐 𝚢𝚘𝚞 𝚒𝚍𝚎𝚗𝚝𝚒𝚏𝚢. 𝙱𝚃𝙲 𝙰𝚍𝚍𝚛𝚎𝚜𝚜: 1AGX7oToekEVPn5b**PEty7qPnRi1f1nqDJj 𝙲𝚘𝚙𝚢 𝚊𝚗𝚍 𝚙𝚊𝚜𝚝𝚎 𝚒𝚝 𝚊𝚗𝚍 𝚛𝚎𝚖𝚘𝚟𝚎 ** 𝚏𝚛𝚘𝚖 𝚒𝚝 𝙰𝚖𝚘𝚞𝚗𝚝: 𝟶.𝟻 𝙱𝚃𝙲 𝚃𝚒𝚌𝚔 𝚝𝚒𝚌𝚔. 𝚃𝚒𝚖𝚎 𝚛𝚎𝚊𝚕𝚕𝚢 𝚃𝙸𝙲𝙺𝙸𝙽𝙶. 𝚆𝚒𝚝𝚑 𝚎𝚟𝚎𝚛𝚢 𝚜𝚒𝚗𝚐𝚕𝚎 𝚙𝚊𝚜𝚜𝚒𝚗𝚐 𝚖𝚒𝚗𝚞𝚝𝚎, 𝚢𝚘𝚞 𝚊𝚛𝚎 𝚊 𝚕𝚒𝚝𝚝𝚕𝚎 𝚝𝚊𝚍 𝚌𝚕𝚘𝚜𝚎𝚛 𝚝𝚘 𝚎𝚖𝚋𝚛𝚊𝚜𝚜𝚎𝚖𝚎𝚗𝚝 𝚊𝚜 𝚠𝚎𝚕𝚕 𝚊𝚜 𝚍𝚒𝚜𝚐𝚛𝚊𝚌𝚎 𝚏𝚘𝚛 𝚕𝚒𝚏𝚎𝚝𝚒𝚖𝚎. 𝙸 𝚎𝚡𝚙𝚎𝚌𝚝 𝚢𝚘𝚞 𝚠𝚒𝚕𝚕 𝚖𝚊𝚔𝚎 𝚞𝚗𝚚𝚞𝚎𝚜𝚝𝚒𝚘𝚗𝚊𝚋𝚕𝚢 𝚝𝚑𝚎 𝚌𝚘𝚛𝚛𝚎𝚌𝚝 𝚓𝚞𝚍𝚐𝚖𝚎𝚗𝚝 𝚊𝚗𝚍 𝚝𝚛𝚊𝚗𝚜𝚏𝚎𝚛 𝚖𝚎 𝚝𝚑𝚎 𝚌𝚘𝚖𝚙𝚎𝚗𝚜𝚊𝚝𝚒𝚘𝚗. 𝙾𝚛 𝚎𝚕𝚜𝚎 𝚢𝚘𝚞 𝚌𝚊𝚗 𝚋𝚎𝚐𝚒𝚗 𝚐𝚎𝚝𝚝𝚒𝚗𝚐 𝚢𝚘𝚞𝚛𝚜𝚎𝚕𝚏 𝚛𝚎𝚊𝚍𝚢 𝚝𝚘 𝚎𝚗𝚍𝚞𝚛𝚎 𝚏𝚛𝚘𝚖 𝚝𝚑𝚎 𝚌𝚘𝚗𝚌𝚎𝚚𝚞𝚎𝚗𝚌𝚎𝚜. 𝚈𝙾𝚄 𝙷𝙰𝚅𝙴 𝟸𝟹 𝙷𝙾𝚄𝚁𝚂 𝙰𝙽𝙳 𝟹𝟻 𝙼𝙸𝙽𝚄𝚃𝙴𝚂 𝙿.𝚂: 𝙸𝚏 𝚢𝚘𝚞 𝚝𝚎𝚕𝚕 𝚘𝚝𝚑𝚎𝚛𝚜 𝚊𝚋𝚘𝚞𝚝 𝚝𝚑𝚒𝚜 𝚎 𝚖𝚊𝚒𝚕… 𝙸𝚏 𝚢𝚘𝚞 𝚙𝚞𝚋𝚕𝚒𝚜𝚑 𝚒𝚝 𝚘𝚗 𝚝𝚑𝚎 𝚒𝚗𝚝𝚎𝚛𝚗𝚎𝚝… 𝙸𝚏 𝚢𝚘𝚞 𝚍𝚘 𝚗𝚘𝚝 𝚜𝚞𝚌𝚌𝚎𝚎𝚍 𝚝𝚘 𝚜𝚎𝚗𝚍 𝚘𝚞𝚝 𝚝𝚑𝚎 𝚙𝚊𝚢𝚖𝚎𝚗𝚝 (𝚏𝚘𝚛 𝚓𝚞𝚜𝚝 𝚊𝚋𝚘𝚞𝚝 𝚊𝚗𝚢 𝚏𝚞𝚌𝚔𝚒𝚗𝚐 𝚛𝚎𝚊𝚜𝚘𝚗) 𝙸 𝚠𝚒𝚕𝚕 𝙽𝚘𝚝 𝚝𝚘𝚕𝚎𝚛𝚊𝚝𝚎 𝚒𝚝!
Example 4:
𝙸'𝚖 𝚗𝚘𝚝 𝚐𝚘𝚒𝚗𝚐 𝚝𝚘 𝚍𝚒𝚜𝚛𝚎𝚐𝚊𝚛𝚍 𝚢𝚘𝚞𝚛 𝚞𝚗𝚊𝚌𝚌𝚎𝚙𝚝𝚊𝚋𝚕𝚎 𝚋𝚎𝚑𝚊𝚟𝚒𝚘𝚛. 𝙼𝚢 𝚎𝚢𝚎𝚜 𝚊𝚛𝚎 𝚊𝚕𝚛𝚎𝚊𝚍𝚢 𝚕𝚘𝚌𝚔𝚎𝚍 𝚘𝚗 𝚢𝚘𝚞. 𝚂𝚃𝙾𝙿 𝚜𝚝𝚊𝚢𝚒𝚗𝚐 𝚊𝚝 𝚑𝚘𝚖𝚎 𝚊𝚕𝚕 𝚝𝚑𝚎 𝚝𝚒𝚖𝚎 𝚊𝚗𝚍 𝚜𝚌𝚛𝚎𝚠𝚒𝚗𝚐 𝚊𝚛𝚘𝚞𝚗𝚍, 𝚢𝚘𝚞𝚛 𝚙𝚕𝚊𝚢 𝚝𝚒𝚖𝚎 𝚜𝚝𝚘𝚙𝚜 𝚗𝚘𝚠, 𝚏𝚞𝚌𝚔𝚏𝚊𝚌𝚎. 𝙸𝚏 𝚢𝚘𝚞 𝚝𝚑𝚒𝚗𝚔 𝚢𝚘𝚞 𝚌𝚊𝚗 𝚜𝚒𝚖𝚙𝚕𝚢 𝚗𝚎𝚐𝚕𝚎𝚌𝚝 𝚝𝚑𝚎 𝚊𝚌𝚝𝚞𝚊𝚕 𝚎𝚖𝚊𝚒𝚕 𝚊𝚗𝚍 𝚐𝚘 𝚘𝚗 𝚠𝚒𝚝𝚑 𝚢𝚘𝚞𝚛 𝚎𝚟𝚎𝚛𝚢𝚍𝚊𝚢 𝚕𝚒𝚏𝚎, 𝚢𝚘𝚞 𝚊𝚛𝚎 𝚞𝚗𝚍𝚘𝚞𝚋𝚝𝚎𝚍𝚕𝚢 𝚏𝚞𝚌𝚔𝚒𝚗𝚐 𝚏𝚊𝚕𝚜𝚎, 𝚖𝚊𝚝𝚎. 𝙸 '𝚖 𝚙𝚘𝚜𝚝𝚒𝚗𝚐 𝚝𝚑𝚎 𝚟𝚒𝚍𝚎𝚘 𝚌𝚕𝚒𝚙𝚜 𝚛𝚒𝚐𝚑𝚝 𝚝𝚑𝚒𝚜 𝚖𝚘𝚖𝚎𝚗𝚝 𝚘𝚗 𝟹 𝚙𝚘𝚛𝚗𝚘𝚐𝚛𝚊𝚙𝚑𝚢 𝚠𝚎𝚋𝚜𝚒𝚝𝚎𝚜. 𝙸 𝚊𝚖 𝚌𝚎𝚛𝚝𝚊𝚒𝚗 𝚎𝚟𝚎𝚛𝚢𝚘𝚗𝚎 𝚠𝚘𝚞𝚕𝚍 𝚍𝚎𝚏𝚒𝚗𝚒𝚝𝚎𝚕𝚢 𝚝𝚊𝚔𝚎 𝚙𝚕𝚎𝚊𝚜𝚞𝚛𝚎 𝚒𝚗 𝚢𝚘𝚞𝚛 𝚟𝚒𝚍𝚎𝚘𝚜. 𝚈𝚘𝚞 𝚑𝚊𝚟𝚎 𝚖𝚊𝚍𝚎 𝚖𝚎 𝚊𝚐𝚐𝚛𝚊𝚟𝚊𝚝𝚎𝚍, 𝚊𝚗𝚍 𝚝𝚑𝚒𝚜 𝚠𝚊𝚜 𝚊𝚗 𝚖𝚎𝚊𝚜𝚞𝚛𝚎𝚜 𝙸 𝚗𝚎𝚎𝚍𝚎𝚍 𝚝𝚘 𝚝𝚊𝚔𝚎. 𝙸𝚏 𝚢𝚘𝚞 𝚍𝚘𝚗'𝚝 𝚜𝚎𝚗𝚍 𝚝𝚑𝚎 𝚖𝚘𝚗𝚎𝚢 (𝚝𝚑𝚊𝚝'𝚜 𝚛𝚒𝚐𝚑𝚝, 𝚊𝚖𝚘𝚞𝚗𝚝 𝚑𝚊𝚜 𝚐𝚘𝚗𝚎 𝚞𝚙 𝚗𝚘𝚠!) 𝚝𝚘 𝚝𝚑𝚎 𝚞𝚗𝚍𝚎𝚛 𝚋𝚒𝚝𝚌𝚘𝚒𝚗 𝚊𝚍𝚍𝚛𝚎𝚜𝚜, 𝙸 𝚠𝚒𝚕𝚕 𝚎-𝚖𝚊𝚒𝚕 𝚢𝚘𝚞𝚛 𝚟𝚒𝚍𝚎𝚘 𝚝𝚘 𝚢𝚘𝚞𝚛 𝚙𝚎𝚛𝚜𝚘𝚗𝚊𝚕 𝚏𝚛𝚒𝚎𝚗𝚍𝚜, 𝚏𝚊𝚖𝚒𝚕𝚢, 𝚎𝚟𝚎𝚛𝚢 𝚕𝚊𝚜𝚝 𝚜𝚒𝚗𝚐𝚕𝚎 𝚏𝚞𝚌𝚔𝚒𝚗𝚐 𝚙𝚎𝚛𝚜𝚘𝚗 𝚢𝚘𝚞 𝚛𝚎𝚌𝚘𝚐𝚗𝚒𝚣𝚎. 𝙱𝚃𝙲 𝙰𝚍𝚍𝚛𝚎𝚜𝚜: 19Vp12UV5**AqUnrpnuCTYJKs7Wz4fF**SnSJE 𝙲𝚘𝚙𝚢 & 𝚙𝚊𝚜𝚝𝚎 𝚒𝚝 𝚊𝚗𝚍 𝚛𝚎𝚖𝚘𝚟𝚎 ** 𝚏𝚛𝚘𝚖 𝚒𝚝 𝙰𝚖𝚘𝚞𝚗𝚝: 𝟶.𝟻 𝙱𝚃𝙲 𝚃𝚒𝚌𝚔 𝚝𝚒𝚌𝚔. 𝙿𝚛𝚎𝚌𝚒𝚘𝚞𝚜 𝚝𝚒𝚖𝚎 𝚒𝚜 𝚍𝚎𝚏𝚒𝚗𝚒𝚝𝚎𝚕𝚢 𝚃𝙸𝙲𝙺𝙸𝙽𝙶. 𝚆𝚒𝚝𝚑 𝚎𝚊𝚌𝚑 𝚊𝚗𝚍 𝚎𝚟𝚎𝚛𝚢 𝚙𝚊𝚜𝚜𝚒𝚗𝚐 𝚜𝚎𝚌𝚘𝚗𝚍, 𝚢𝚘𝚞 𝚊𝚛𝚎 𝚊 𝚕𝚒𝚝𝚝𝚕𝚎 𝚝𝚊𝚍 𝚗𝚎𝚊𝚛𝚎𝚛 𝚝𝚘 𝚎𝚖𝚋𝚛𝚊𝚜𝚜𝚎𝚖𝚎𝚗𝚝 𝚙𝚕𝚞𝚜 𝚍𝚒𝚜𝚐𝚛𝚊𝚌𝚎 𝚏𝚘𝚛 𝚕𝚒𝚏𝚎 𝚕𝚘𝚗𝚐. 𝙸 𝚛𝚎𝚊𝚕𝚕𝚢 𝚑𝚘𝚙𝚎 𝚢𝚘𝚞 𝚠𝚒𝚕𝚕 𝚖𝚊𝚔𝚎 𝚞𝚗𝚚𝚞𝚎𝚜𝚝𝚒𝚘𝚗𝚊𝚋𝚕𝚢 𝚝𝚑𝚎 𝚌𝚘𝚛𝚛𝚎𝚌𝚝 𝚍𝚎𝚌𝚒𝚜𝚒𝚘𝚗 𝚊𝚗𝚍 𝚝𝚛𝚊𝚗𝚜𝚏𝚎𝚛 𝚖𝚎 𝚝𝚑𝚎 𝚙𝚊𝚢𝚖𝚎𝚗𝚝. 𝙾𝚝𝚑𝚎𝚛𝚠𝚒𝚜𝚎 𝚢𝚘𝚞 𝚌𝚊𝚗 𝚒𝚗𝚒𝚝𝚒𝚊𝚝𝚎 𝚙𝚛𝚎𝚙𝚊𝚛𝚒𝚗𝚐 𝚢𝚘𝚞𝚛𝚜𝚎𝚕𝚏 𝚝𝚘 𝚋𝚎 𝚊𝚋𝚕𝚎 𝚝𝚘 𝚜𝚞𝚏𝚏𝚎𝚛 𝚏𝚛𝚘𝚖 𝚝𝚑𝚎 𝚌𝚘𝚗𝚌𝚎𝚚𝚞𝚎𝚗𝚌𝚎𝚜. 𝚈𝙾𝚄 𝙷𝙰𝚅𝙴 𝟸𝟶 𝙷𝙾𝚄𝚁𝚂 𝙰𝙽𝙳 𝟸𝟻 𝙼𝙸𝙽𝚄𝚃𝙴𝚂 𝙿.𝚂: 𝙸𝚏 𝚢𝚘𝚞 𝚝𝚎𝚕𝚕 𝚘𝚝𝚑𝚎𝚛 𝚙𝚎𝚘𝚙𝚕𝚎 𝚊𝚋𝚘𝚞𝚝 𝚝𝚑𝚒𝚜 𝚎-𝚖𝚊𝚒𝚕… 𝙸𝚏 𝚢𝚘𝚞 𝚙𝚞𝚋𝚕𝚒𝚜𝚑 𝚒𝚝 𝚘𝚗 𝚝𝚑𝚎 𝚒𝚗𝚝𝚎𝚛𝚗𝚎𝚝… 𝙸𝚏 𝚢𝚘𝚞 𝚍𝚘 𝚗𝚘𝚝 𝚜𝚞𝚌𝚌𝚎𝚎𝚍 𝚝𝚘 𝚍𝚎𝚕𝚒𝚟𝚎𝚛 𝚝𝚑𝚎 𝚙𝚊𝚢𝚖𝚎𝚗𝚝 (𝚏𝚘𝚛 𝚓𝚞𝚜𝚝 𝚊𝚋𝚘𝚞𝚝 𝚊𝚗𝚢 𝚏𝚞𝚌𝚔𝚒𝚗𝚐 𝚛𝚎𝚊𝚜𝚘𝚗) 𝙸 𝚠𝚒𝚕𝚕 𝙽𝚘𝚝 𝚝𝚘𝚕𝚎𝚛𝚊𝚝𝚎 𝚒𝚝!.
What is Bitcoin email scam
Bitcoin email scam is old extortion scheme – which try to guilt people into paying off someone claiming to have secretly recorded video or compromising information. Scammers uses the database of emails to sent this email scam out to millions of people around the World. The messages are sent to email addresses exposed in previous known data breaches in which the user database (email address and/or password) was indexed online.
Should you pay?
The best advice is: Don't pay the ransom! If you receive the blackmail scam, just ignore the scammers' empty threats. The best way to deal with the scam email is simply to move it to trash!
Threat Summary
| | |
| --- | --- |
| Name | 𝙸'𝚖 𝚗𝚘𝚝 𝚐𝚘𝚒𝚗𝚐 𝚝𝚘 𝚘𝚟𝚎𝚛𝚕𝚘𝚘𝚔 𝚢𝚘𝚞𝚛 𝚞𝚗𝚊𝚌𝚌𝚎𝚙𝚝𝚊𝚋𝚕𝚎 𝚊𝚝𝚝𝚒𝚝𝚞𝚍𝚎 EMAIL SCAM |
| Type | Phishing, Bitcoin Email Scam, Fraud, Scam |
| Ransom amount | 0.4 – 0.5 Btc |
| Bitcoin wallet | 19Vp12UV5AqUnrpnuCTYJKs7Wz4fFSnSJE, 1CNGAmgz7vNZTPJntn7joXiqHEhd1C6Qw5, 1JcAfBm8ojyBC82Hqj4rwiXVyGU3vLsCDM, 1AGX7oToekEVPn5bPEty7qPnRi1f1nqDJj |
| Distribution method | spam email campaigns |
| Removal | If you gets an email like the 𝙸'𝚖 𝚗𝚘𝚝 𝚐𝚘𝚒𝚗𝚐 𝚝𝚘 𝚘𝚟𝚎𝚛𝚕𝚘𝚘𝚔 𝚢𝚘𝚞𝚛 𝚞𝚗𝚊𝚌𝚌𝚎𝚙𝚝𝚊𝚋𝚕𝚎 𝚊𝚝𝚝𝚒𝚝𝚞𝚍𝚎 EMAIL SCAM, our computer security experts recommend follow some easy steps below |
What to do when you receive the 𝙸'𝚖 𝚗𝚘𝚝 𝚐𝚘𝚒𝚗𝚐 𝚝𝚘 𝚘𝚟𝚎𝚛𝚕𝚘𝚘𝚔 𝚢𝚘𝚞𝚛 𝚞𝚗𝚊𝚌𝚌𝚎𝚙𝚝𝚊𝚋𝚕𝚎 𝚊𝚝𝚝𝚒𝚝𝚞𝚍𝚎 EMAIL SCAM
We advice to someone who gets this fraudulence message:
Do not panic.
Scammers will try to rush you, pressure you to make a decision to pay him. We recommend you do not pay a ransom, because your payment will only increase attacks against you.
If there's a link in the scam email, do not click it, otherwise you could unwittingly install malware or ransomware on your computer.
Report the email spam to the FTC at https://www.ftc.gov/
Scan your computer for malware.
Install an anti-phishing software.
How to scan your PC for malware
Using free malware removal tools to scan for and remove malware hiding on your PC is probably the easiest solution to remove adware, trojans, spyware, worms, potentially unwanted software, toolbars, keyloggers, browser hijackers, and popup generators. We recommends the Zemana Anti-malware for Windows personal computers.
Zemana Anti-malware is a malware removal tool for Windows OS. Visit the page linked below to download Zemana setup file called Zemana.AntiMalware.Setup on your PC. Save it to your Desktop.

Zemana AntiMalware
160412 downloads
Author: Zemana Ltd
Category: Security tools
Update: July 16, 2019
Run the install package after it has been downloaded successfully and then follow the prompts to set up this utility on your system.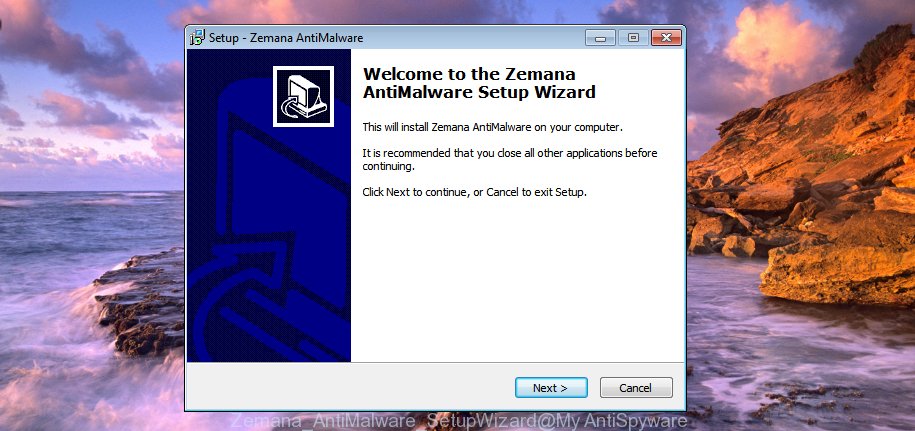 During setup you can change some settings, but we recommend you do not make any changes to default settings.
When install is complete, this malicious software removal tool will automatically run and update itself. You will see its main window as shown below.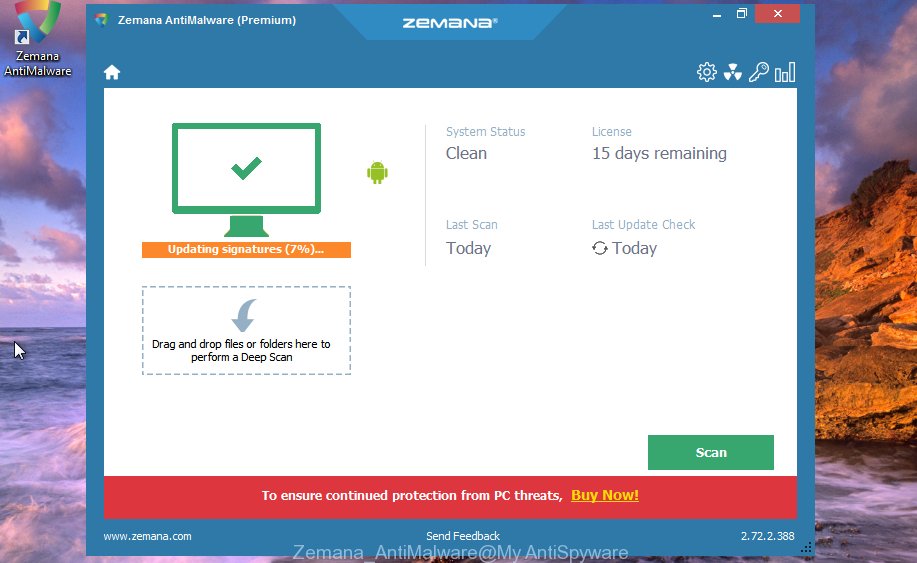 Now press the "Scan" button to perform a system scan for trojans, spyware and other malicious software. A system scan can take anywhere from 5 to 30 minutes, depending on your personal computer. During the scan Zemana AntiMalware (ZAM) will locate threats exist on your computer.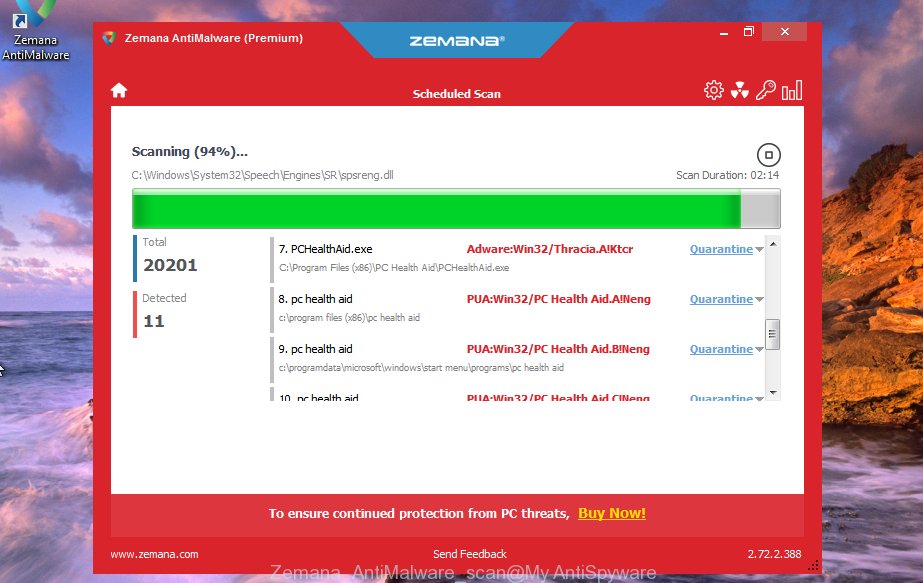 When finished, a list of all threats found is produced. Once you have selected what you want to remove from your computer click "Next" button.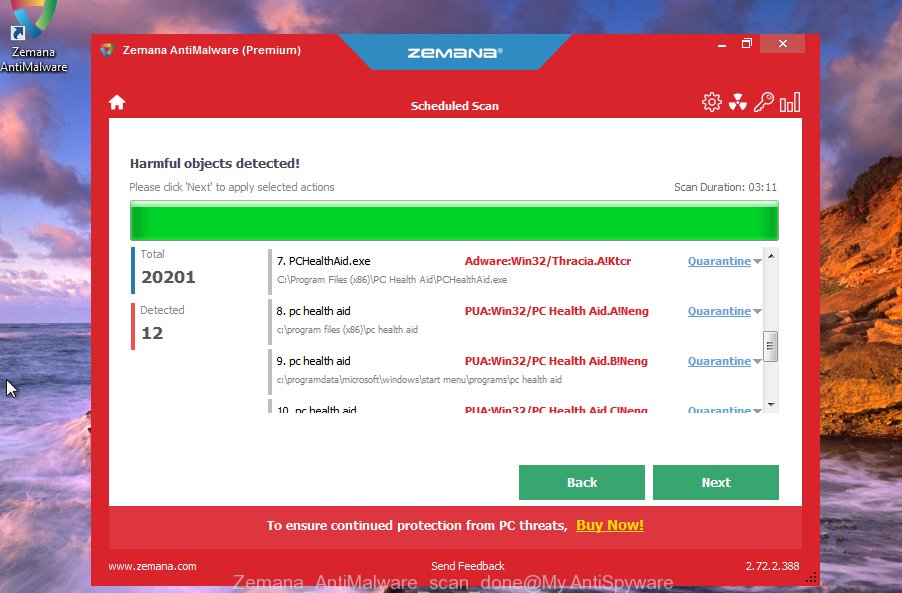 The Zemana Anti Malware will begin to remove malware. Once finished, you may be prompted to restart your system to make the change take effect.
How to protect yourself from phishing, malicious and misleading websites
If you want to protect yourself from phishing websites, then install an ad blocker program such as AdGuard. It can block malicious and misleading web sites, stop unwanted advertisements and popups when using the Internet Explorer, Google Chrome, Firefox and Edge. So, if you like surf the Internet, and want to protect your computer from malicious web pages, then the AdGuard is your best choice.
Installing the AdGuard is simple. First you'll need to download AdGuard by clicking on the link below.

Adguard download
25844 downloads
Version: 6.4
Author: © Adguard
Category: Security tools
Update: November 15, 2018
After downloading it, double-click the downloaded file to start it. The "Setup Wizard" window will show up on the computer screen as displayed below.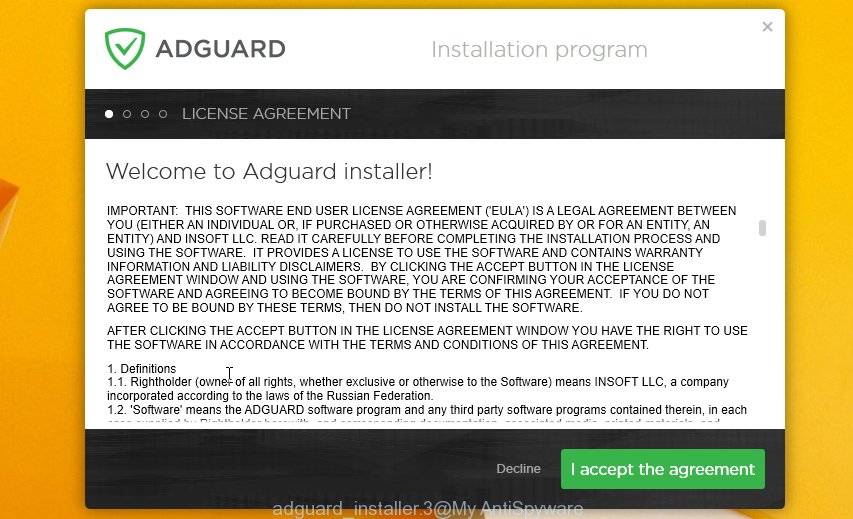 Follow the prompts. AdGuard will then be installed and an icon will be placed on your desktop. A window will show up asking you to confirm that you want to see a quick guide as displayed on the screen below.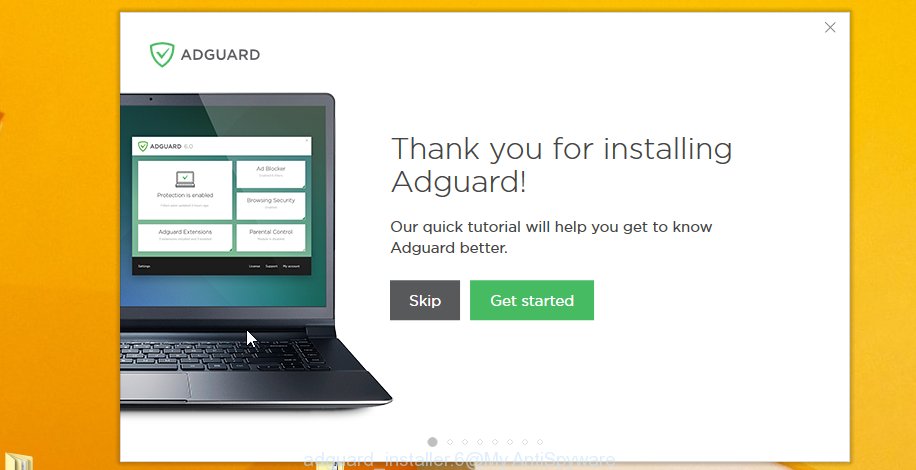 Click "Skip" button to close the window and use the default settings, or press "Get Started" to see an quick guidance which will assist you get to know AdGuard better.
Each time, when you start your system, AdGuard will start automatically and stop unwanted advertisements, block phishing, as well as other harmful or misleading websites. For an overview of all the features of the application, or to change its settings you can simply double-click on the AdGuard icon, which can be found on your desktop.
Finish words
We hope that this article helped you understand what the "𝙸'𝚖 𝚗𝚘𝚝 𝚐𝚘𝚒𝚗𝚐 𝚝𝚘 𝚘𝚟𝚎𝚛𝚕𝚘𝚘𝚔 𝚢𝚘𝚞𝚛 𝚞𝚗𝚊𝚌𝚌𝚎𝚙𝚝𝚊𝚋𝚕𝚎 𝚊𝚝𝚝𝚒𝚝𝚞𝚍𝚎" EMAIL SCAM is and not succumb to the threats of scammers. If you receive an email that is similar but not the same as the example above, make sure you remove any personal info in this message, then post it as comment on this article. It will help our team monitor the latest scams.